Terry Burgess has a 10 acre lifestyle block near Warkworth which he and his late wife developed from bare land. You can see from the pictures that the property is beautifully landscaped, planted and very well maintained. The farm is home to Terry, 2 old cats, 1 old dog and 6 old alpacas.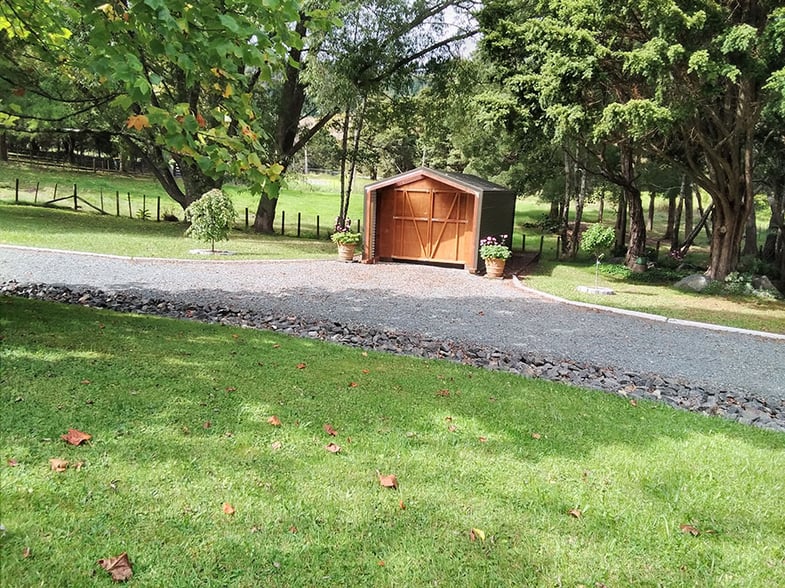 Terry ordered his Borderland shed from Outpost last year and chose Karaka Colorsteel cladding for it. He had the exterior timber stained which helps protect the timber and keep it looking great for longer.
"I chose my Outpost Shed after seeing a photo of it in a magazine and I knew that was for me."
The Borderland Shed is a very strong design that features heavy duty 6x2 inch timber framing and a skid mounted base that makes it easy to relocate. This comes in handy if you ever want to reposition or on sell the shed in the future.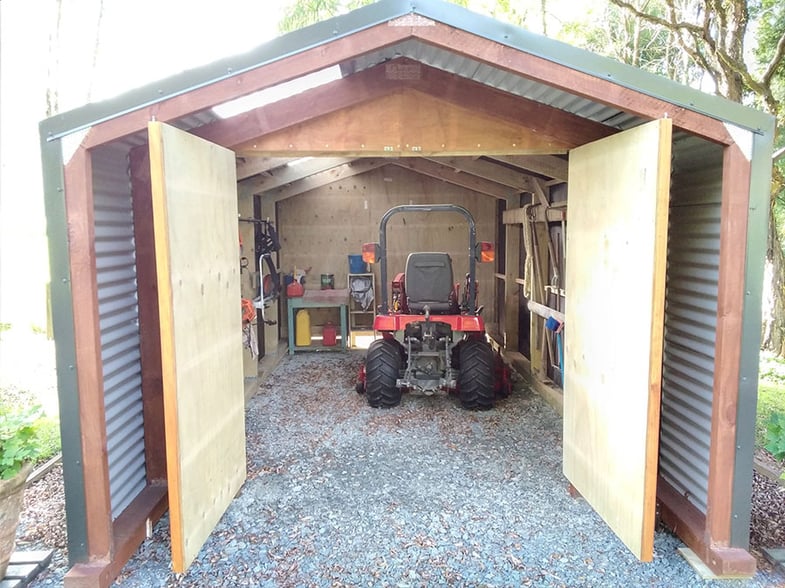 Terry's shed sits on a gravel pad with no timber floor so he can drive his small tractor and ride on mower straight in there. Flooring for the Borderland shed is available as an optional extra. The timber framing inside is easy to attach shelves or hooks to for tool storage. There is a Topglass clear panel in the roof of the shed that lets extra day light inside.
"Everything about my shed is just right. My small tractor is very happy in there along with my ride-on mower and garden tools. Plus it's more than a shed, it's a part of our landscaping and fits in just right."
Terry said kitset assembly went well, "A local contractor put it up for me in 2 days, easy as no problems. They were also doing other work for me at the time."
"Outpost have been very good to deal with from my first enquiry to delivery with no problems. I now have a great asset that enhances my property."
Outpost kitset large sheds come with step-by-step assembly plans that are easy to follow. For the Borderland design we recommend two people with basic building skills to do the assembly. The shed is 5.8m long so the sheets of cladding are much easier to fit with two people and some of the timber framing is quite heavy.
"We are so pleased with the shed, the service from Outpost was great and the shed was just what I wanted. If I need anything else, I know where to come."