For the best horse health care, horse owners should consider building a horse paddock shelter. Protecting horses from the elements such as snow, rain, extreme heat and hail will benefit not only your horse's health, but ultimately your ability to train, ride, compete on and enjoy your horse. Learn more about what size paddock shelter is best for your horse to protect him while they're in the paddock.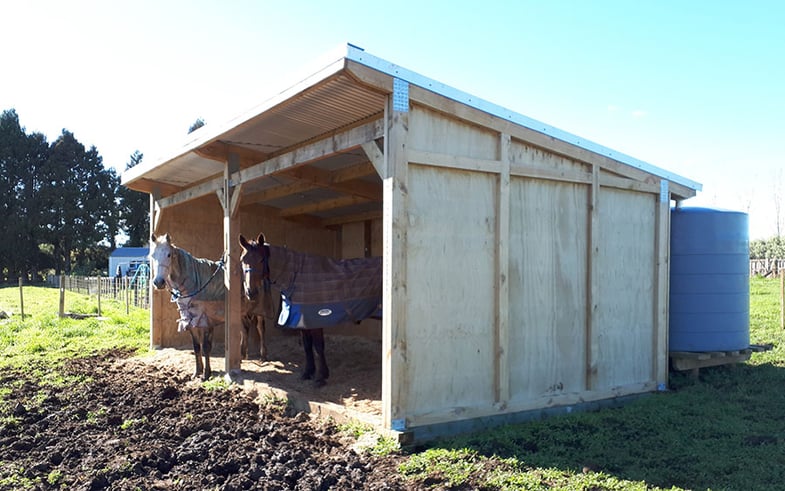 GET A FREE COPY OF OUR CATALOGUE
Paddock Shelter sizes for large horses
For two horses 15h-17h we recommend a shelter that is 3.5m x 5.8m.
As a rule of thumb, experts advise at least 3m x 3.5m for one horse and 3.5m x 4.8m for two. With an open front, a shelter this size will allow two horses to come and go comfortably and provide sufficient room for both to stand inside with no one getting trapped in the back.  A 2.5m high roof will leave space for them to rear and play.
The roof height on the Paddock Shelter pictured above is 2.8m on the high side with a slope to 2.1m at the back. A design that slopes from high at the front to lower at the back is best because then the entrance for horses is more open and inviting and all the rain will run off the back, not the front. 
Find out more about the Hunter Paddock Shelter pictured above >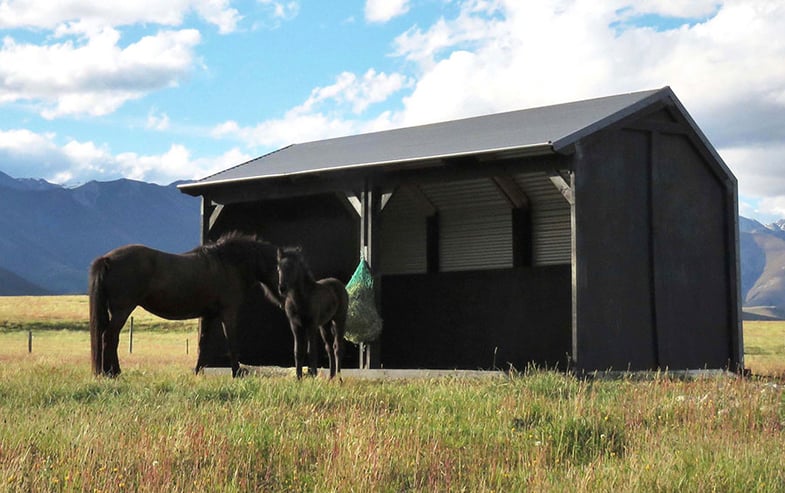 Paddock Shelter sizes for small horses or ponies
If you have smaller horses, say 14.3h and less then a paddock shelter that is 2.5m x 3.5m would be suitable for one and 2.5m x 4.8m for two small horses or ponies.
The horse shelter pictured above is 2.5m x 5.8m so an ideal size for this small horse and her foal.

The smaller horse shelter pictured to the right is 2.5m x 3.6m so a great size for one small horse.
See our website for more information on our Small Horse Shelter.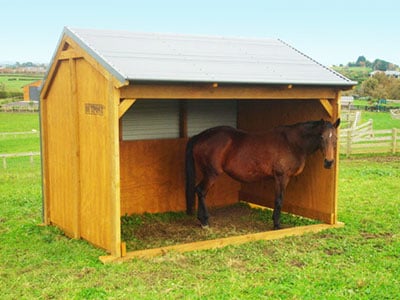 Horses that don't get along?
We've assumed here that this shelter is for just a couple of horses, and that they get along reasonably well. It's not uncommon for a highly dominant horse to lay claim to a shelter and deny access to the number two horse altogether. If the dynamics between your horses prevent them from sharing space, a shelter that is divided into two parts may work.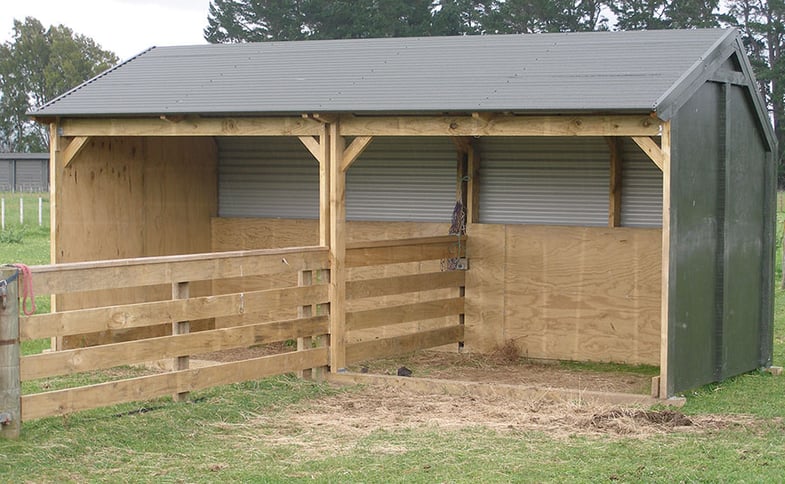 Testimonial for the Horse Shelter Pictured above:
"Here is a photo of our completed paddock shelter which we modified a little.
As you will see we set it up to serve two paddocks which works very well. We added the dividing rails as we put it together.
The semi-retired builder who helped erect it was most impressed with the design, solid structure and simple instructions that anyone can easily follow.
Our horses used it straight away and love it. Even when they are covered they make a mad dash for it when it rains, plus use it to shelter out of the wind & sun.
One of the best investments we have made in a long time with no regrets. Lots of interest and favourable comments from people who have seen it.Thank you Outpost Buildings for your fast and efficient service it was a pleasure to do business with you.Lois & Ian, Dannevirke"
Materials for building your Paddock Shelter
If you're going to build the Paddock Shelter yourself then we recommend timber framing and walls. Timber walls are quieter than steel which will help your horses relax and be comfortable. Solid timber has significant thermal and insulating properties, such as retaining heat from the day and releasing it at night.
The inside of the shelter should be lined with 15mm exterior-grade plywood (to prevent injuries caused by kicking through the siding).
Steel or sheet metal can be unsafe for horses unless you ensure that all edges are covered in trim and that the walls are properly backed by sturdy timber boards so that kicking and other shelter punishing behaviour don't lead to dangerous rips in the metal. 
Steel roof cladding is best for the roof of your Paddock Shelter, a quality galvanised product such as Zincalume or Colorsteel provides a long lasting option that comes with a 10 year manufacturers guarantee.