How much you can fit in a Garden shed depends a lot on how you organise and store things inside. In this blog we look at some options such as storage hooks, magnetic tool racks, peg board, shelving and parts bins.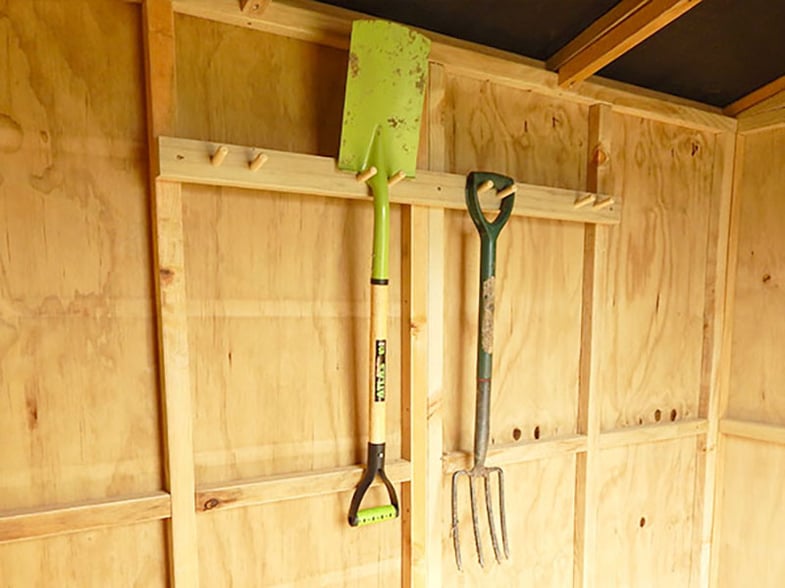 Hooks to hang tools
Hooks are a great way to make the most of space in your shed. There are many types available to purchase from hardware stores in a range of sizes and designs. Pictured above is one of the Garden Tool Sheds that Outpost make.  They are made of timber and come in a 10 or 8 peg option and are nice and strong for storing garden tools like shovels, forks and power cords.
Click here to see our Garden Tool Racks 
GET A FREE COPY OF OUR CATALOGUE
One of the great things about having a shed with strong timber framing is that you can easily nail or screw tool racks or hooks to your framing without jeopardising the strength of the shed or creating holes in the cladding that water or rust might get in to.
For smaller tools you can simply bang some nails into your shed's timber framing to hang things on such as secateurs, hand saws and other small hand tools.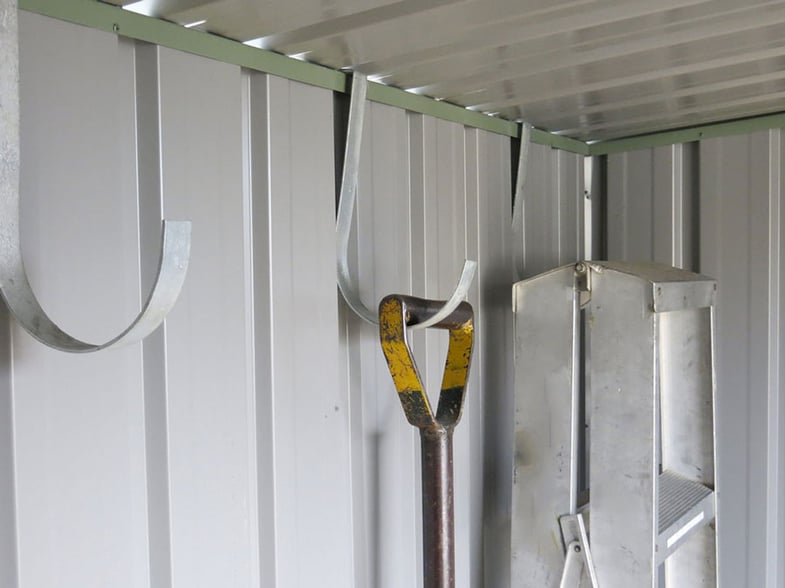 Tool storage hooks for steel sheds
If your shed has steel framing and walls then you will need to check it is strong enough to hold onto your tool hooks and tools.
There are a wide range of options of storage hooks for use in steel sheds available from hardware stores. Some will hang from the top of the wall so you don't have to put holes through the steel.
You could also make your own with a piece of timber, some screws or nails, a drill, spirit level and maybe a hand saw if you need to cut your timber. There are lots of DIY instructions that can help with making your own Tool Rack online such as this one: https://www.gardenersworld.com/how-to/diy/how-to-make-a-garden-shed-tool-rack/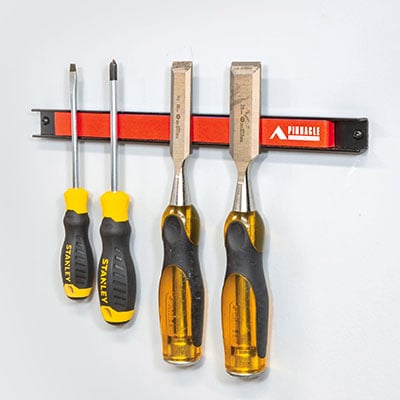 Magnetic tool storage racks
These magnetic tool racks are a great way to store tools in your shed. They are available to purchase at most hardware stores in a range of sizes. Take note of how much weight they are able to hold, for example this on has a total carrying capacity of 9kg. They are easily screwed into a timber wall. https://www.bunnings.co.nz/pin...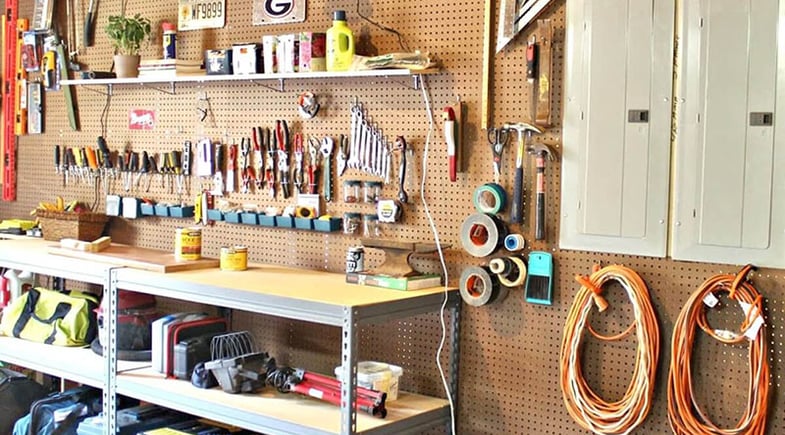 Peg Board
Pegboard storage is a great way to reduce clutter in your garden shed. There are many different peg board products available from hardware stores with a range of accessories to help you hang and store everything in your shed in a tidy and organised way.
Peg board sheets can be easily fixed to the timber framing in your shed or garage walls, simply nail or screw it into place where you want it. There are many different types and sizes of pegboard hooks available for storing a wide range of tools and equipment.
Here's a link to a video showing how to install pegboard https://www.bunnings.co.nz/diy-advice/home-improvement/shelving-and-storage/how-to-hang-and-style-a-pegboard
One thing I love about pegboard is that you can easily move your hooks at anytime, they're not stuck in one place, you can easily reposition your hooks at anytime to re-organise your tools (or fit more in!).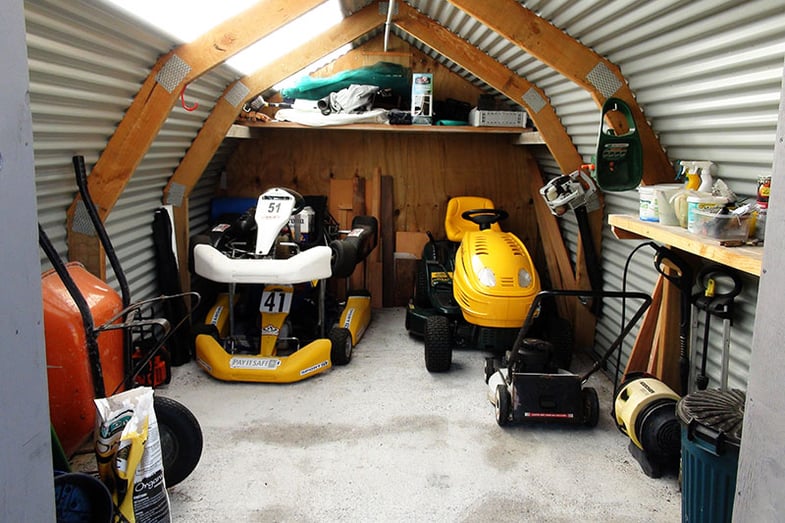 Shelving for Garden Sheds
Shelving helps to maximise the space in your shed and get things up off the ground. There are many different types of shelving available to buy from hardware stores in a wide range of sizes.
You can also make you own shelves out of timber. If you have a strong garden shed with timber framing it is easy to attach your own home-made timber shelves to. Just cut your timber to the length you want and screw it into your framing. Depending on what you want to store on your shelves you may need to add extra support.
In an Outpost Shed the timber framing inside is exposed which makes it easy to attach your shelves to. The picture below is an example of shelves that one of our customers has made for their Upland Shed. The shelve at the back of the shed is made easily by fixing some 2x4 inch timber shelve supports in between the back 2 frame uprights and then sitting some timber planks on top. The pieces of wood will all need to be cut to length.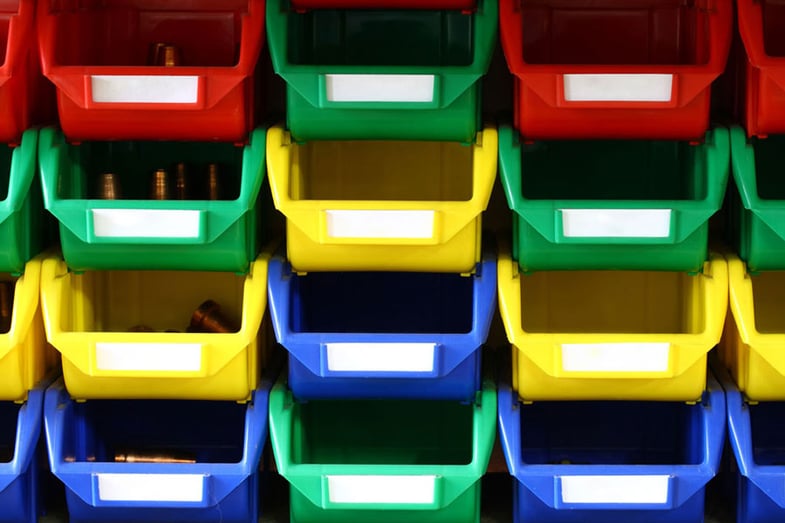 Parts Bin Organisers
If you've got lots of nails, screws, nuts and bolts then we suggest you use parts boxes or bins to keep all these small bits organised and easy to find. Parts bins can be purchased from most hardware stores and come in a range of sizes. They can sit on shelves in your shed if you have some or many come with wall mounting brackets so you can attach them to the wall of your shed.
Outpost Garden Sheds
Strong, relocatable garden sheds available in a range of sizes & designs. Outpost Sheds all have strong timber framing and quality corrugated iron roofing with Colorsteel upgrades available. Built tough to last the test of time!