In this Case Study we hear from Richard and Alison who purchased a Garden Shed with Wood Shelter from Outpost earlier this year. They have kindly written this story about their experience.
"We were in a 3-room 3rd floor flat in Coventry UK.  Our garden was an allotment 15 minutes' walk away where we had 2 sheds.  Our flat looked out onto 4 huge beech trees, loads of pigeons and a lot of squirrels.  Then retirement coincided with the ravages of Covid so in haste we packed a container, arrived here in NZ about 3 months before it (our container) did and settled into a life about as far removed from Coventry as you can get.
We now live on an 8 hectare lifestyle block.  About 4 hectares, house, garden and paddock, 2 hectares of pine trees and 2 hectares of stunningly beautiful native bush.  We are completely off grid.  Water from the rain, electricity from the sun and hot water either from the sun or a wet back." said Richard.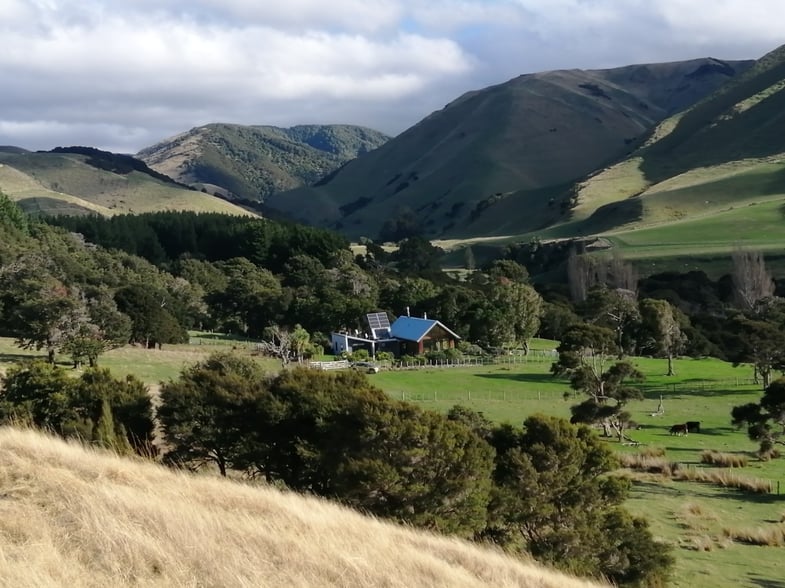 "It's a stunning house with ever changing views.  We were offered 2 alpacas so who wouldn't say no?  We were offered 3 orphan lambs, so being vegetarian city folks, who wouldn't say no?  We have a house and 2 red sheds.  But the red sheds aren't any good for the grass cutter, garden tools, alpaca food and bikes.  Anyway, there is a belief that you can never have too many sheds!"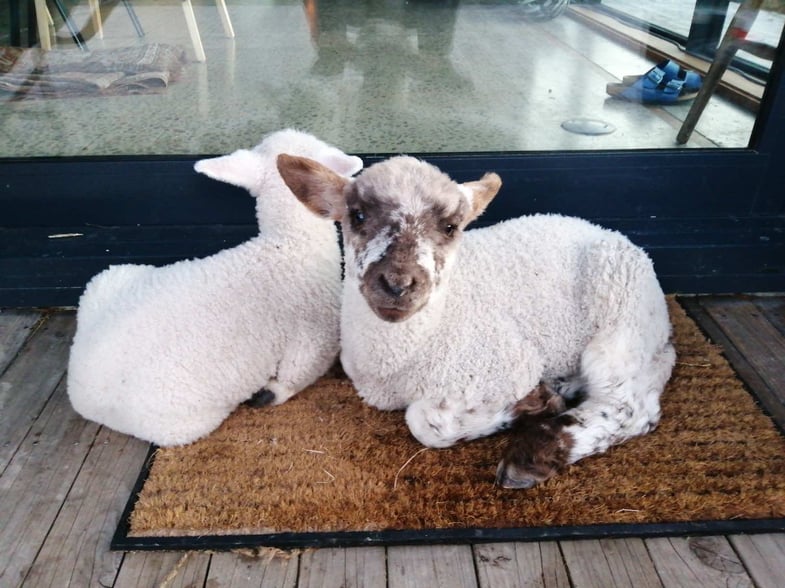 Pictured above is Lamborghini and Lambrusco.
"We enquired about a shed.  Not only was it going to be BIG, have a concrete floor, fit in with the lines of the roof of our house and probably have possum fur lined walls, it was going to cost $54,000.  So, we looked elsewhere.  A great friend of ours mentioned Outpost Buildings, all her other recommendations have been good so why should this one fail.
You know what? Once we found Outpost we didn't look anywhere else.  I think we really liked the idea of the kitset, build it yourself malarkey.  The only thing either of us have built in the past was a bonfire at the allotment in Coventry.  We do secretly think we are both fairly practical and can wield a hammer with the dexterity of an Orthopaedic Surgeon and measure things with the accuracy of an Olympic javelin thrower judge.
Our first problem was getting it delivered.  With hindsight I suppose we could have worked out that a shed would be heavy.  And we wanted it at the top of the drive and then across a field.  It was either going to be a long walk or it was going to test our Toyota Yaris Cross Hybrid.  Gary and Lois our fantastic farmer neighbours came to our rescue with some forks on the front of a tractor.
To be fair to Outpost we were told by the always helpful team there that our options for unloading the kitset were a tractor with a fork or a truck with a crane could be arranged.  Too much accurate detail would spoil a good story!" said Richard.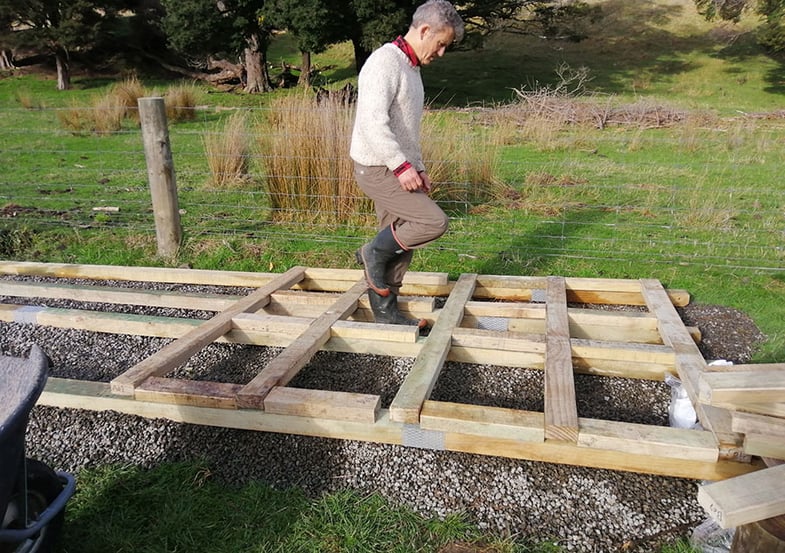 Pictured above: The timber bearers (timber skid base) and floor joists for the wood garden shed are all laid out on the flat gravel pad.
"We ordered a chicken coop at the same time.  I suppose it may have been better to get an idea of building things by starting with that, but NO, it was too easy.  Start with a challenge.  Actually, for a short while we were scared, not really knowing what to do or where to start.  Once we got fed up with the grass cutter in a bedroom and bikes in the bathroom, we knew it was time to start.
We followed the instructions and read them first.  For us non builders we were a bit stumped as to what a purlin was, a nail we knew, but a screw with a funny name was different from 'a screw'.  We were off.  All good houses need foundations.  A shingle bed was laid, with shingle stolen from the drive.  The joists placed, measured checked with a spirit level, measured, and rechecked.  The game plan was going smoothly.  Floorboards, purlins and more were all slipping together like a well-made jig saw.
I ended up using a fair few long screws instead of nails, not because I had no more thumbs to hit, but I found screwing screws in easier.  My choice.
Oh my gosh!  We were 12mm out.  But a call to the Outpost team reassured us we'd be ok.  What we did learn was to check the next page of instructions and measurements before the commitment of a nail." said Richard.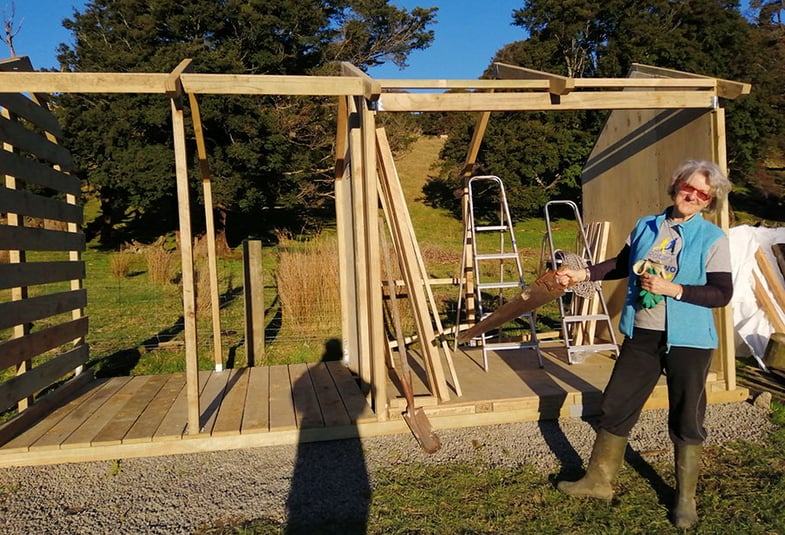 Pictured above: Alison standing in front of the shed with the flooring all complete and the walls up, almost ready for roofing.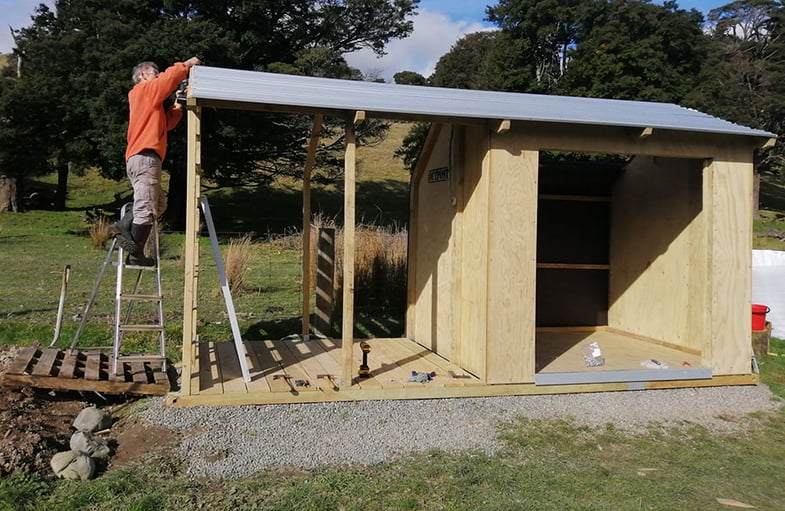 Pictured above: Richard is fitting the roofing on and the shed front wall is on, next step is hinging the doors.
There is a need to be slow, methodical and attend to detail.  But it was great fun with a huge sense of satisfaction on its completion." 
"There wasn't quite enough attention to detail and the door needed about 2 mm shaving off, and I bet you can't guess what comes next… I planed 4mm off! But if that is all that didn't go perfectly, then we are happy." said Richard.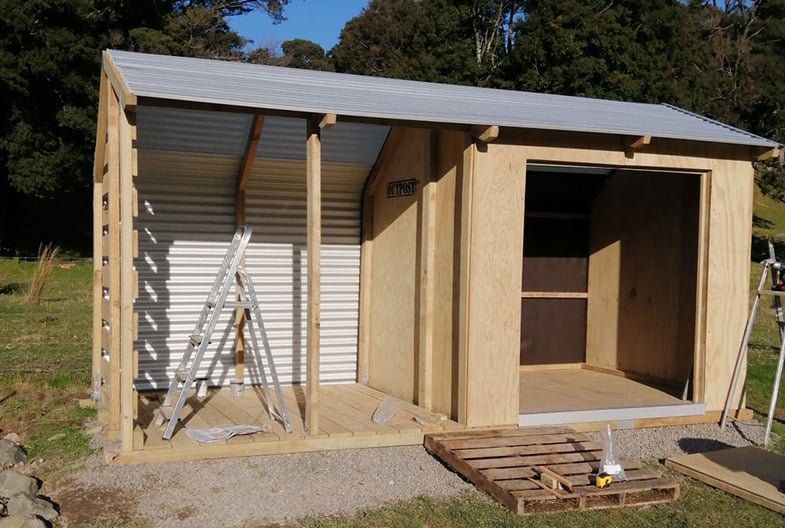 "We are now dab hands at wielding a hammer, screw driver and tape measure.  We are ready to do the chicken coop now! 
We were so delighted we had a shed opening party in which we made a speech and cut the piece of 'red tape' flax with newly oiled garden shears.  The local farmers were expecting A SHED, not something slightly larger than a dog kennel, so they laughed at us!!" said Richard.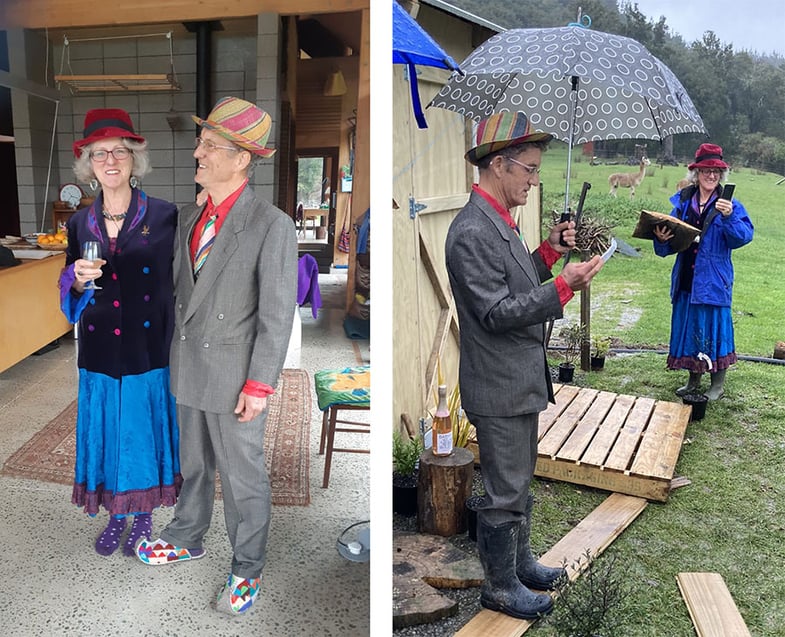 Pictured above: Richard, Alison all dressed up at their shed opening party.
"What would make it even easier?  A glossary of terms.  Oh, and in the instructions to say to do the roof battens, on either side of the purlin at the same time rather than do one side and then the next.
When we'd finished, I stood back, looked at the creation and said to Ali, my wife, "you know what Daarl, that's our castle.  Daarl, you should be a builder."  And at that I went inside and made her a certificate.  It's on the wall now.  I'm so proud." said Richard.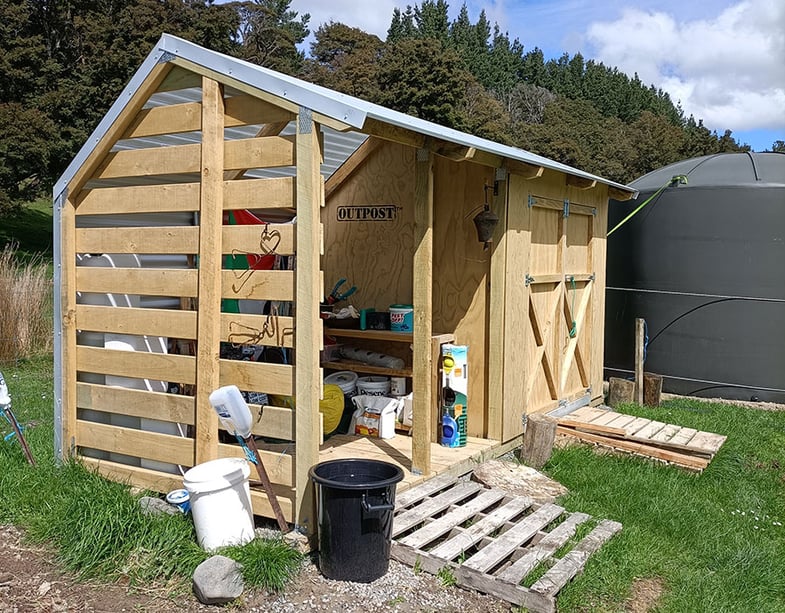 "The good parts of Outpost sheds are the good instructions, the accurate cutting of the wood, their sturdiness (I don't really think I needed to tie it down with a waratah at each corner, but heh ho, no harm in doing so).  They are good quality, but the final quality relies on the builder and for a first build we think it is mighty fine quality!! If I hadn't retired from taking x rays, I think I'd become a shed builder!! 
The other really wonderful part of the Outpost Shed journey was the incredibly helpful Outpost team.  We were kept informed as to the status of our order and why there had been a very slight delay, which was due to a shortage of corrugated iron.  We were reassured when I fessed up that a measurement had gone wonky, well at least to be more truthful that I'd got it wrong!  Outpost people were always helpful, friendly, and reassuring!  What more do you want!?" said Richard.
The shed and Outpost most definitely met our expectations and the thing I liked most was the fun and satisfaction of building a shed!
---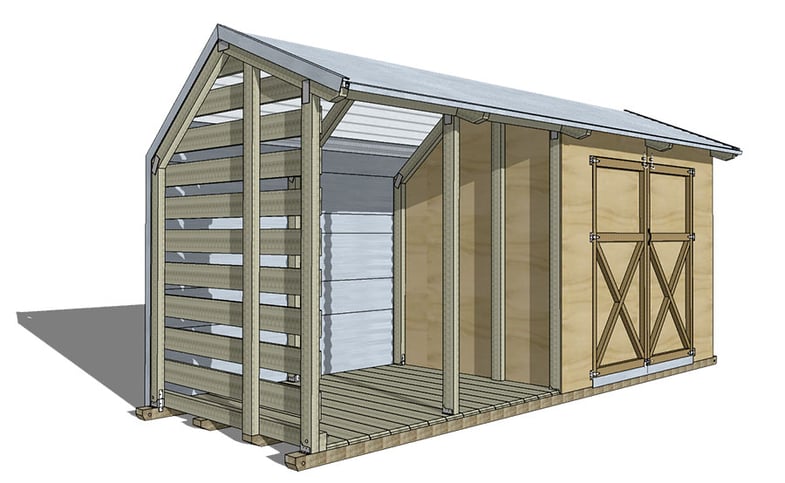 Kitset Shed for firewood and garden tool storage!
The Shed that Richard and Alison purchased was our Large Wood & Tool Shed Combo. This design has an enclosed shed with solid plywood floor on one side and then an open wood shelter with timber slat flooring and end wall at the other end. The timber slat wall and floor keeps firewood well ventilated and helps it to dry faster.