Carmen & William purchased a 9h vineyard with no buildings or fencing near Motueka. With 3 horses they needed to get some storage for their tack equipment and hay organised quickly.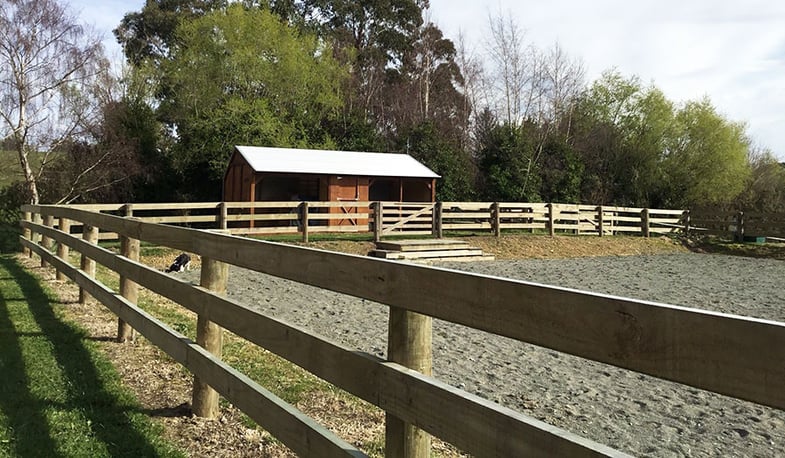 After searching online they discovered Outpost and decided on a horse shelter with tack shed design. The design Carmen & William chose has a floor area of 25sqm and was supplied as a ready to assemble kitset so they did not need a council consent before building. For more information and examples of buildings that do or don't need consents see this article.
What were the reasons you wanted/needed a new building? 
"Mostly to store hay and a tack shed. We needed something that could be built immediately, no waiting on consents etc. Within a few days of our shed arriving, we had a tack room and hay storage built and in use." Said Carmen.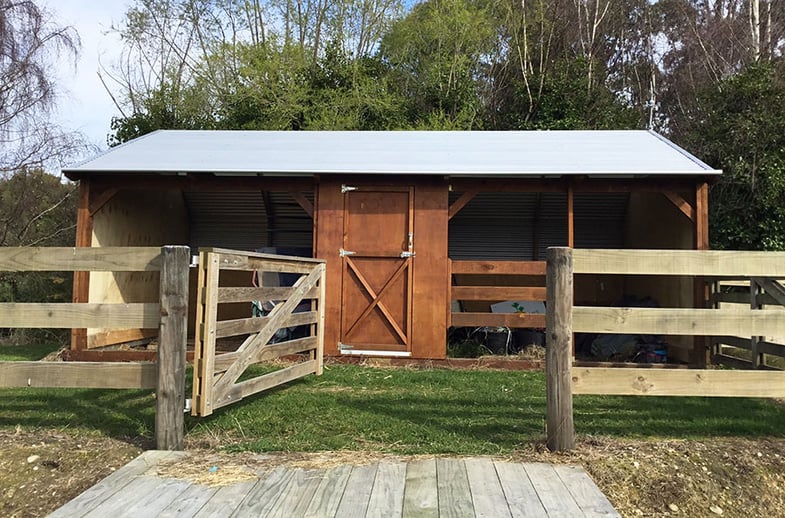 Carmen & William have built a timber yard around their Outpost Shelter as well as an arena for riding. The Outpost Horse Shelter sits right beside the arena so that all their tack equipment and feed is nice and handy. The tack shed has a strong plywood floor inside and the door comes with quality galvanised hinges, handle and pad bolt so it can be locked securely.
What was the main reason you choose Outpost?
"They look solid. Great kitset design, and a great price"
What is your favourite part of your Outpost Building?
"The details like corner supports and doors with extra detail."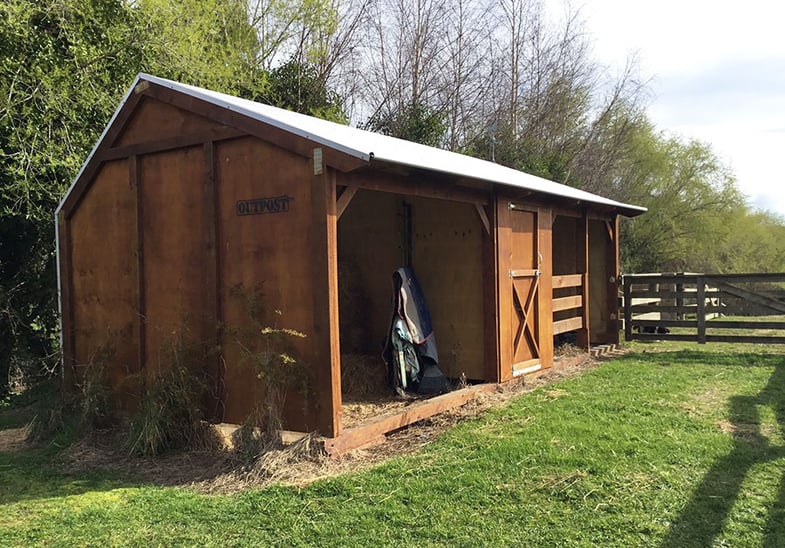 Has Outpost meet your expectations?
"Absolutely, our builder enjoyed putting it together and was impressed with the quality. We purchased the stable with tack shed in centre. The size of stable is too small for my large hacks, but I never intended to use them as a stable. Instead, I have a large space for covers and food bins etc. The other side has no railing and is used for hay storage." Said Carmen.
The Outpost Shelter with Tack Shed that Carmen choose has two stalls that are 3.5m deep by 2.9m wide. They are usually used as holding stalls for grooming and feeding horses or sometimes as paddock shelter. The timber gates and rails on the front of the stalls are optional. The stall size is suitable for horses up to about 16hh. Larger designs are available.
For more information about what size horse shelter is suitable for your horses please click here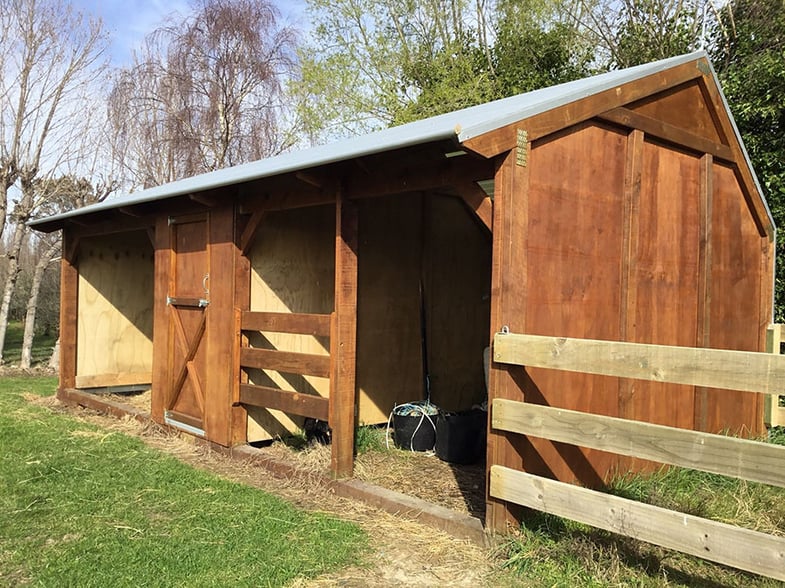 Testimonial from Carmen:
"Our stable with tack shed arrived on time. Built in less than a week. Absolutely love the size.
Timber and finish are better than the photos show. I have hay and covers on one side, tack in centre and stable on the end.
Thank you Outpost!! Very happy
From Carmen"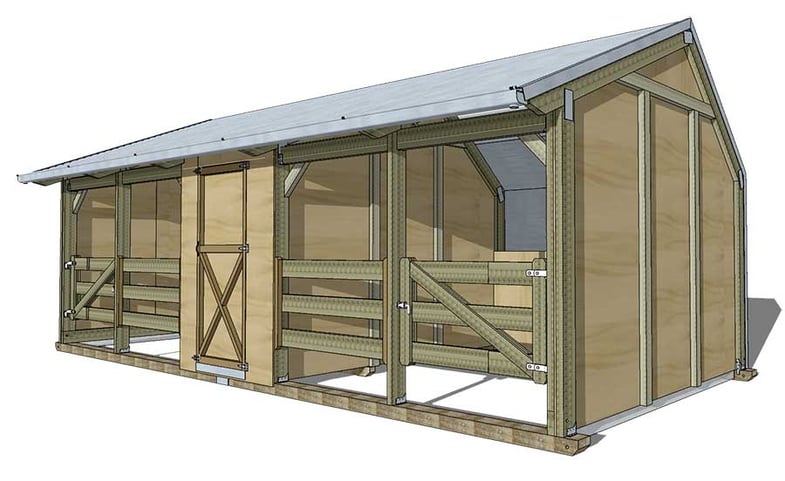 Outpost Stable with Centre Tack Shed
The building that Carmen & William choose for their horse feed and equipment is pictured above. Designed for horses; it has 2 stalls with a tack shed in between them.
Find out more about this design on our website >
---
Then a couple of years later Carmen & William needed another shed so they came back to Outpost…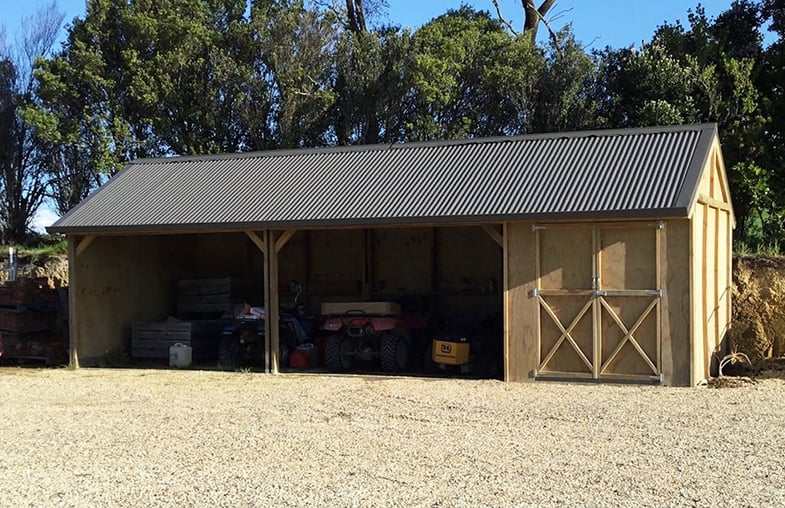 Pictured above is the 2nd Outpost kitset building that Carmen & William purchased. It is a Settler 2 Bay Stable with Tack Shed design. At 9.6m wide x 3.5m deep it is a bit bigger than their first building.
"The second building we purchased has a large shed on one end and 2 bays, which fit our ride on mower, and four wheeler, and there's also room for firewood." Said Carmen.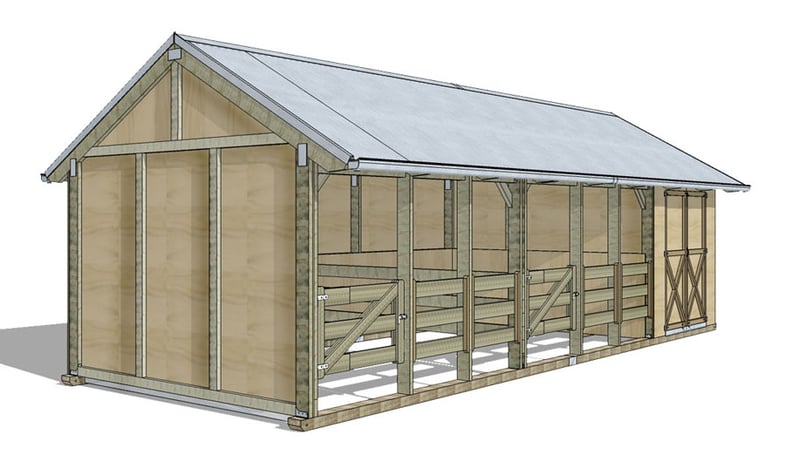 Settler 2 Bay Shelter with Tack Shed
Shown above with the optional timber stall gates and rails this design is a very popular choice for farm sheds and horse stables.
---
Outpost have a great range of relocatable sheds, paddock shelters and horse stables!
Great for storing your horse feed and equipment - take a look at our wide range of designs. Most Outpost buildings are relocatable so they can be moved or repositioned when required. Strong designs made with heavy duty NZ timber framing and quality Zincalume or Colorsteel cladding.