Kelly owns a small lifestyle block on the West Coast of the South Island. On her farm she is breeding up Valais Blacknose Sheep and has two Outpost buildings that keep her lambs warm and dry in the wild west coast weather.
So why Valais Blacknose Sheep?
"I wanted some animals for a bit of a hobby and fell in love with the "Cutest Sheep in the World", Valais Blacknose. They are quite expensive so I started in the breeding up program with 4 pregnant ewes that were 50% Valais (F1s) and the lambs would be 75% (F2s).  
I have learnt a lot in the past year about sheep.  They're hard work but the lambs were just adorable and so friendly.  I have now expanded to have my own purebred ram and a few more 50% ewes (F1s)." said Kelly.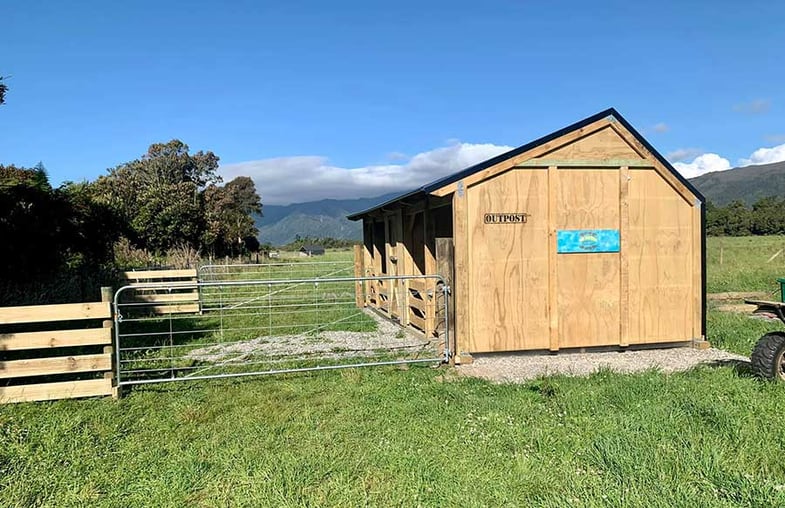 Pictured above is Kelly's new Outpost Shelter with Tack Shed that she uses as a barn for her Sheep and equipment. She built a small yard on the side of it and the 12 foot steel gates are the same width as the building so they swing around and fold back against the barn perfectly when the yards are not in use.
Pictured here is Kelly's lamb "Wolfgang" hanging out behind his Borderland Paddock Shelter with his mum.
.
What were the reasons you wanted a building for your sheep?
"The first year with my sheep I discovered living on the wild west coast lambing always came in the worst weather. I decided if I was to get serious about my precious lambs, I would need a shelter and a small barn to put the newborn lambs in on a wild night.
I first purchased a medium animal shelter which my husband and I built over a weekend." said Kelly
"Then in time for this year's lambing, I bought an Outpost shelter with centre tack shed.  We got a friend with building experience to build the kitset for us and hubby was the hammer boy. It's a two-man job for sure. He suggested we put it on a gravel pad otherwise it would be harder to have it all square.  I don't think we could have done it on our own as it was quite a big job, but I was extremely happy with the result." said Kelly
Pictured below are some photos of the building during kitset assembly. The shelter with centre tack shed is quite a large building (7.2m wide by 3.5m deep & 2.9m high) so some parts are quite heavy and you need at least two strong people with good building skills to assemble the kitset.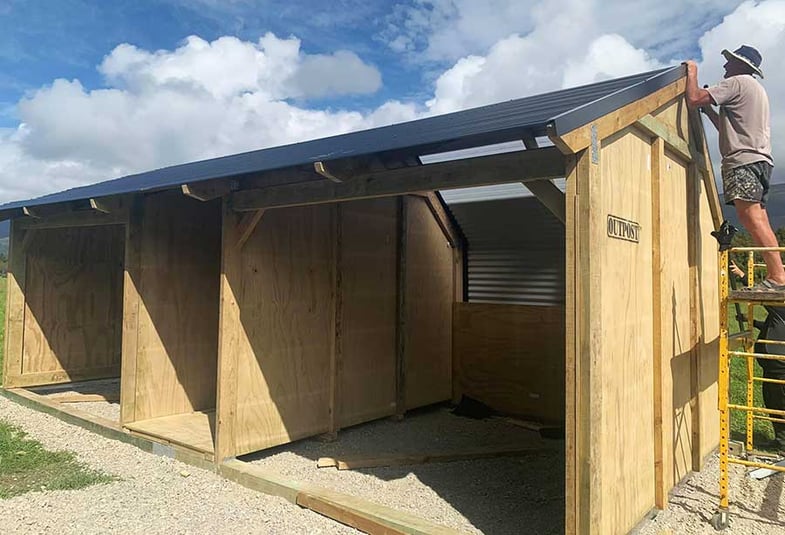 "So far the sheep barn/shelter has had a lot of use, from being a sick bay, birthing suite, hay and food storage plus all my sheep related supplies like drench, tags, clippers etc. 
The only problem is the sheep know where I keep their sheep pellets so trying to get into the tack shed without company is hard. Probably would have been better to buy one with the tack shed at one end so I could have built the yards with tack shed on the outside but I liked the ascetic of the middle tack shed." Said Kelly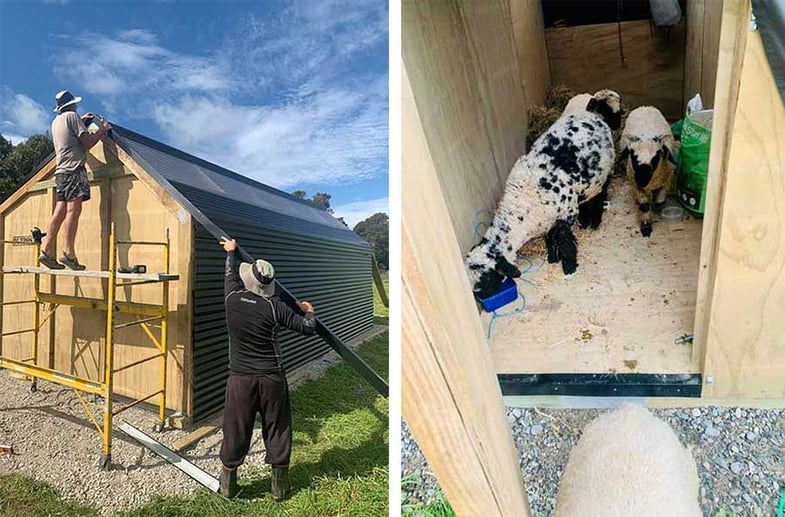 Kelly also made a post and rail yard in front of the shelter and added two 12 foot galvanised gates which fold back against the building perfectly when the yards are not in use.
Kelly added some large strainer posts concreted in at the front of the shelter. They bolted the building to these posts to ensure it doesn't get blown away.  Outpost recommend using some sort of wind anchoring system if you position your building in a windy site.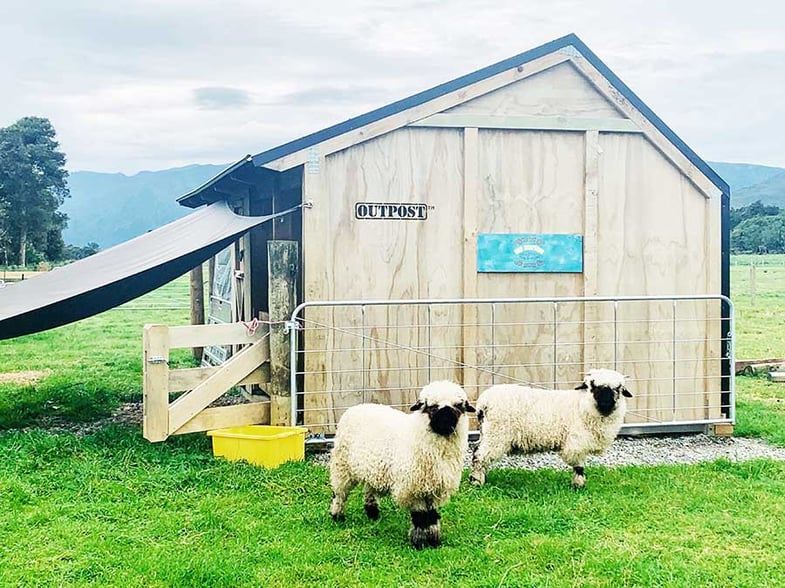 How did you find out about Outpost Buildings? 
I did some googling for shelters online and large sheds for sale and found the Outpost prices were very reasonable.
What was the main reason you choose Outpost?
Initially price but the barn/shelter was for the look too.  It looks very stylish with the black Colorsteel and I liked you could choose extras like gates, railings and colour choice. 
What is your favourite part of your Outpost Buildings?
Apart from how useful it has been I love the look.
Has Outpost met your expectations?
"Yes it was exactly what I needed on a small block.  My sheep are very precious to me so having a place to keep them warm and safe at the times I need it is essential.  It really helps me sleep better on a stormy night knowing if I have a sick sheep or a newborn lamb they are safe and warm." said Kelly.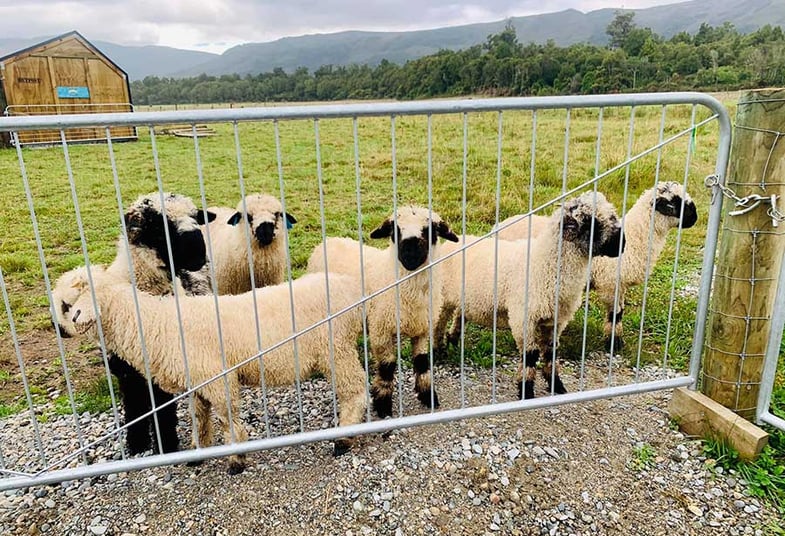 Outpost Horse Shelter with Centre Tack Shed
The building that Kelly choose to protect her gorgeous Valais Blacknose lambs is pictured below. It's designed as a portable horse shelter and has two stalls with a tack shed in between them. Kelly uses the stalls as shelters for her lambs and pregnant ewes.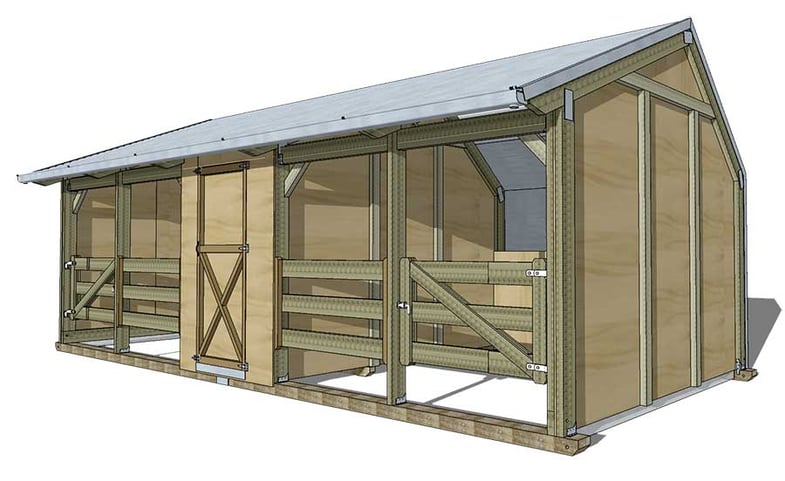 Borderland Paddock Shelter
The first building that Kelly purchased from Outpost was a Borderland Paddock Shelter. This building is very easy to move around and can be towed from paddock to paddock across flat ground. Great for paddocks that don't have any shelter trees to protect lambs and calves from cold weather.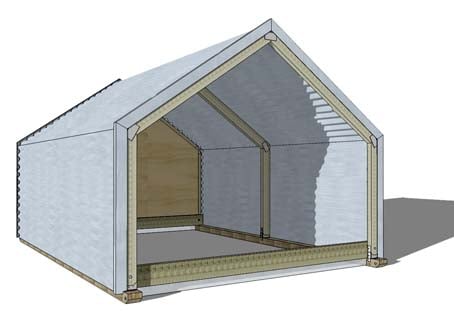 Outpost have a great range of relocatable paddock shelters for your lambs, calves, alpacas, pigs, or goats!
Outpost Livestock shelters are relocatable so they can be moved to fresh ground or repositioned when required. Strong designs made with heavy duty NZ timber framing and quality Zincalume or Colorsteel cladding.