The problem with many chicken coops available to buy these days is that they are weak or not designed to be easily moved without damage. We think it's very important that a chicken coop is strong - designed to last many, many years and that it can be moved many times without damage.
Whether we plan to stay living in the same place for long term or just short term there is no telling for sure that where you want to position your chicken coop today will be where you want it in years to come. There are many circumstances where having an easy to relocate chicken coop is beneficial as well as the ability to use the hen house as a chicken tractor!
Outpost Chicken Coops are built on heavy duty timber skids so that they can be easily relocated. They can be dragged short distances over flat ground with a 4 wheel drive vehicle. This is easily done by fixing a tow rope through the pre-drilled holes in the skids. This 1 bay design or any other Outpost Chicken Coop can be used as a Chicken Tractor.
So what is a Chicken Tractor?
A chicken tractor is a mobile chicken coop for raising poultry on pasture. Ideally the chicken tractor should be moved every day or two for proper management of the soil health, and to give your birds constant access to fresh food, while fertilizing the soil and controlling pests.
GET A FREE COPY OF OUR CATALOGUE
The idea is you move a chicken tractor across your pasture (or backyard) every day, or every few days, so your flock constantly has fresh vegetation to forage in. Chickens like to eat the tender tips of grass and weeds, and they especially relish bugs, slugs, and snails – which helps make a dent in the pest population on your property. As you move the tractor around, they leave their nitrogen and phosphorus rich manure behind them.
It's called a chicken "tractor" because the scratching action of the birds loosens the top inch or so of earth. It's one way to get rid of a
lawn or a weed patch in preparation for planting a garden. But if you just want the birds to perform pest control and fertilize your lawn or pasture without turning it into a dirt patch, make sure to move the tractor regularly so they don't work any one area down to bare earth.
How to reposition your Chicken Coop
Outpost relocatable chicken coops can be repositioned easily. For many people especially those with a bit of land, their property is a bit of a project or work in progress. So, where you want your hen house now might not be where you want it in the future. Outpost chicken coops are strong and can be dragged short distances by attaching a tow rope to the holes in the skid mounted base of the shed. Then carefully tow it over flat ground with a 4x4.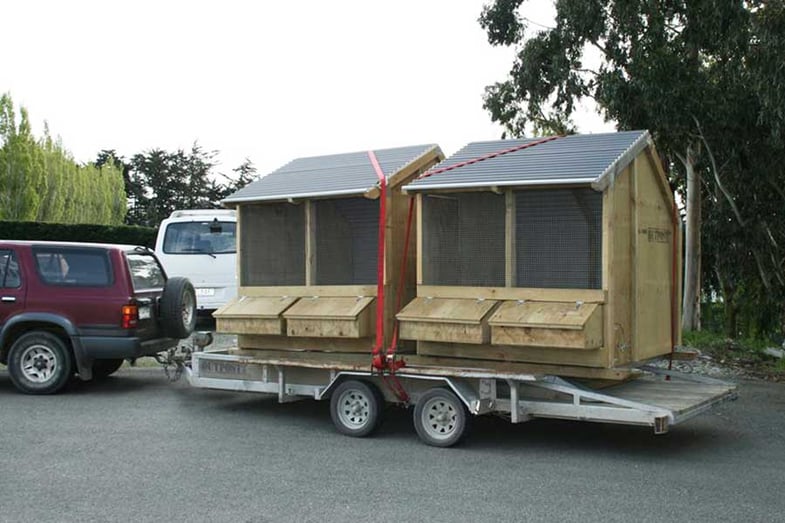 No longer need your chicken coop?
If your needs change in the future and you no longer need your hen house, then you can on sell it. Outpost Chicken Coopsare made to last the test of time so hold their value well. The well-known and trusted Outpost brand will make it easy to on sell your building if you ever decide to.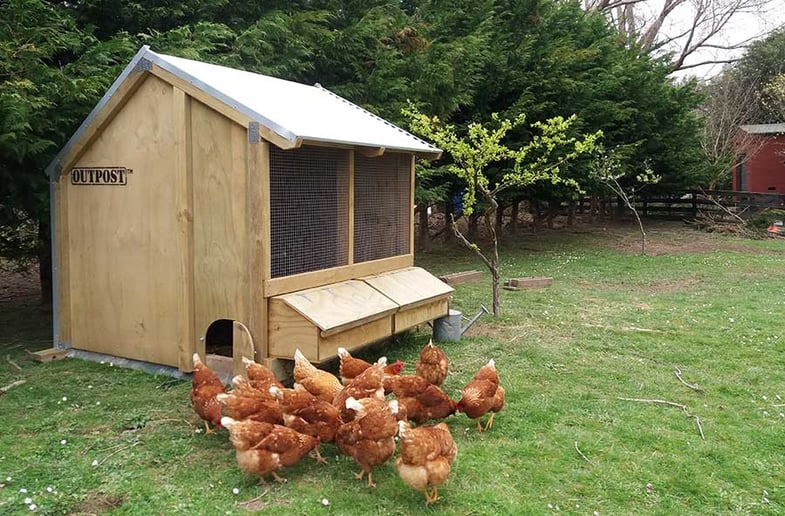 What makes Outpost Chicken Coops relocatable?
Outpost Chicken Coopsare extra heavy duty designs to ensure that they maintain integrity of structure when moving from site to site. Outpost Chicken Coops have a strong skid mounted base made from quality H5 treated timber so you can rest assured that they won't rot for over 100 years. The skids have angled ends on them to make it easier to drag the building without catching on the ground. The timber framing is attached to the skids and the Zincalume or Colorsteel cladding on Outpost Chicken Coops is run horizontally to add to the strength of the building.
If you plan to position your Outpost Chicken Coops in a windy site, then we recommend you use some of our Wind Anchors. These hold your building down preventing the wind from moving it while still allow your building to be relocated.
Click here for more info on Wind Anchors for small buildings (Chicken coops, small sheds, livestock shelters)