Outpost Buildings are designed for the toughest of NZ conditions. So, if you want a strong shed that will last the test of time then trust Outpost.
Built Tough Designs
They are designed to stand up to the extreme conditions of high country NZ – rain, hail, snow or extreme heat; your Outpost large shed can handle it all. Protect your assets with top quality Outpost buildings.
We've been making kitset buildings since 2005 and developed a trusted and reliable building process as well as many patented designs. Outpost buildings feature:
Strong clear span framing without any need for support beams that take up space inside
Outpost skid mounted building base design made with H4 ground treated timber
Exterior H3 treated timber framing and plywood
Quality galvanised hinges, fittings & pad bolts
Outpost's Built Tough Guarantee
Outpost kitsets come with a quality guarantee for all parts and workmanship so you can trust the quality of Outpost Buildings. If you find any parts supplied in your kitset are incorrect or have been damaged in transit, we will replace them for free.
Rest assured that if you do have any problems with Outpost kitset assembly. The friendly Outpost team are just a phone call away. We really know our products from our popular NZ built kitset cabins to our large tool sheds and can help you with building assembly advice.
Faulty Materials Policy: in the event of any kitset components proving to be faulty we will cover replacement of faulty materials providing we are advised within 12 months of purchase, however we do not guarantee any components that have not been assembled as timber is a living natural material and can move and warp if not secured in position.

GET A FREE COPY OF OUR CATALOGUE
Relocatable Designs
Most Outpost buildings are designed to be relocatable. Their extra heavy duty designs ensure that the maintain integrity of structure when moving from site to site. Being relocatable gives you the flexibility to reposition your building if you needs change in the future as well as the ability to get your Outpost Building loaded onto a truck for moving to a new property or on-selling. 
If you plan to position your Outpost Building in a windy site then we recommend you use some of our Wind Anchors. These hold your building down preventing the wind from moving it while still allow your building to be relocated.
We have 2 different Wind Anchor options to choose from:
Click here for more info on Wind Anchors for small buildings (hen Houses, Livestock shelters)
Click here for more info on Wind Anchors for large buildings (sheds, stables cabins)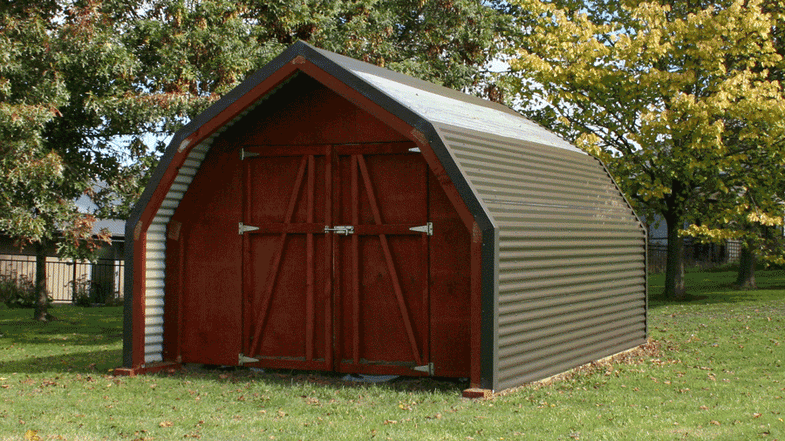 We use genuine Zincalume or Colorsteel Endura Cladding
The corrugated iron we use on Outpost kitsets is genuine Zincalume® or Colorsteel® cladding which has a 10 year manufacturers quality guarantee. ZINCALUME® coated steel has long-term corrosion resistance in moderate conditions. A 45% zinc and 55% aluminium alloy coated steel that has powerful corrosion resistance. 
For more information on Zincalume cladding click here 
If your building site is coastal then we recommend you upgrade your Outpost Building to Colorsteel® Endura® cladding. Choose from a wide range of colours to make your Outpost Building blend in with your other buildings or surroundings. COLORSTEEL® ENDURA® represents the perfect blend of form and function. It has been created alongside global leaders in both paint technology and the manufacture of pre-painted steel products. 
For more information on Colorsteel® Endura® cladding click here