So you've decided to give DIY a go and build your own kitset building - that's great! Here's some tips and information that will help you to assemble your kitset. In here we talk about kitset instructions, parts, safety, site selection, how to check if you building is square and tips for steel cladding.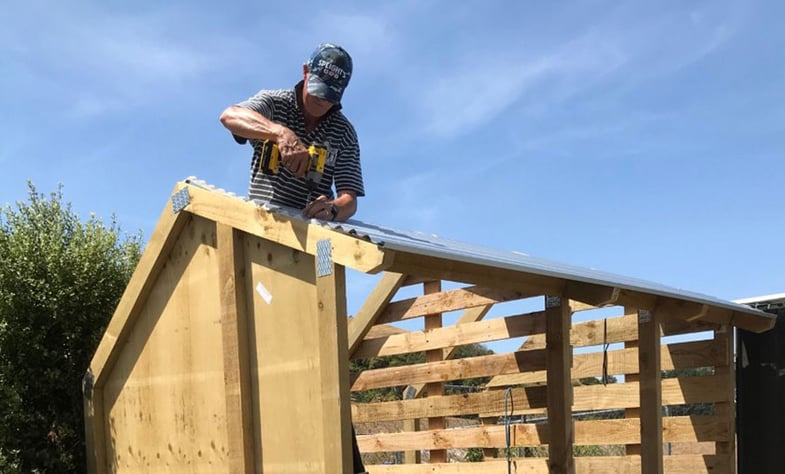 Before you start
One of the most important things we tell our customers is to read the instructions carefully BEFORE you start assembling your kitset. This will help you to understand the parts and how things will fit together. There is a specific order in which things should be assembled and if follow the instructions it could save you a lot of time and effort.
It's a good idea to identify all the parts in the kitset and lay them out neatly. Most parts will be labelled to make it easy to identify them. This will help you to understand the instructions more clearly. You should also check all of the parts to make sure none have been damaged during transit.
Make sure you have all the necessary tools to assemble your kitset cabin. You will need a battery drill with both square and phillips screw driver bits. You will also need a tape measure, hammer and ladder. For some of our  buildings you might also need tin snips and a wood saw. All the screws and nails you'll need are supplied in the Kitset Hardware Pack as well as an 8mm tek screw drill bit that you will use for installing the tek screws.
GET A FREE COPY OF OUR CATALOGUE
Safety precautions for building assembly
Do not attempt to build your shelter in HIGH WINDS! Check the forecast to avoid extremely wet or windy weather conditions for kitset assembly. Try to assemble your kitset building over a weekend or within a couple of weeks.
Tips for safe building assembly:
Beware of sharp edges, we recommend wearing protective gloves to handle parts.
Protect your eyes with safety glasses and ears with earmuffs when using power tools.
Wear gloves when handling corrugated cladding.
It is easier, quicker and safer if the shelter is erected by at least 2 people.
If using a ladder make sure that it is secure and won't fall.
Be careful lifting large or heavy building parts. Some large building parts such as the timber framing is very heavy especially in our larger buildings. Use 2 people to lift to avoid injury.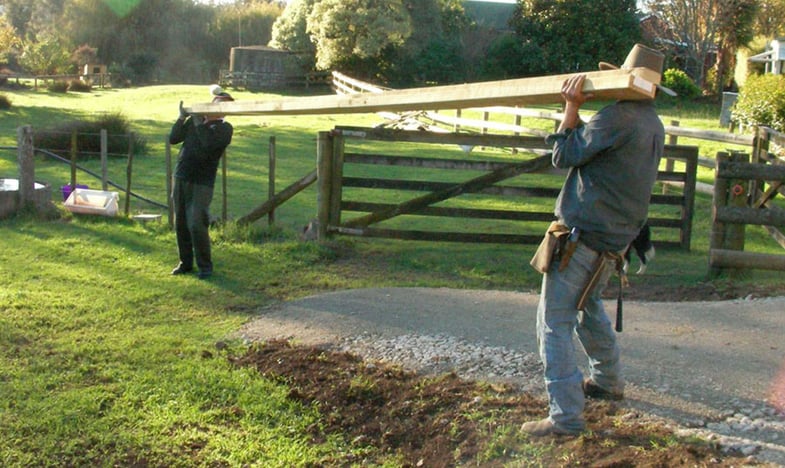 Select your site
Where to build your kitset?
It's best to assemble your kitset building on a flat, even surface. If your site is not flat it will make getting the building square much more difficult. Use a spirit level to check if your site is level. If you have a flat gravel or concrete driveway or pad then this is probably a good place to build. 
Most Outpost buildings are relocatable so they can be built on a flat surface and then moved to wherever you want them after they are assembled. Small Outpost buildings can be dragged into position either with a 4x4 vehicle or a few strong people for short distances and positioning.
If you're building a kitset large shed that you can't move onto site then we recommend you prepare your site before assembly by leveling it and laying some gravel or concrete to provide a firm base.

How to check your building is square 
Getting building walls square will ensure parts like plywood walls and doors are easy to install. An extra 10 minutes checking everything's square in the early stages of building assembly could save you hours later on.
Once you have the building framing assembled, check the structure is square by simply measuring from corner to corner diagonally as shown in the diagrams here. Be aware some parts are rough sawn timber and shown dimensions can vary 1-2mm.
If the measurements aren't the same, pull the long corner towards the middle of the structure until they even out. Once identical, the framework is perfectly squared. Nail a batten temporarily across three or four joists or studs to hold it square until secured in place.
Do this for the base of the building first and once this is square then check the upright framing. 

What will the kitset arrive like & include?
Outpost kitsets come well packaged with all parts precut and ready to assemble. Some parts are even semi assembled for you such as doors, gates and parts of the framing. Most parts are labelled so that you can more easily identify each part. The kitset will come wrapped in white pallet wrap to keep the parts dry and we use some timber packing when required to keep the kitset parts safe during transit.
We recommend you assemble your kitset building within 30 days of delivery, as timber by its very nature will move and warp if not secured in position. If you are not able to assemble it within 30 days then keep it covered and out of sunlight and direct heat. Kitset components are only guaranteed for 90 days after date of delivery if the kitset has not been assembled.
Are screws and nails etc included in the kitset?
We will send you a Hardware Kit with all the fixings (like screws and nails) and fittings (like hinges and pad bolts for doors) in a box separately. We usually courier the Hardware Kit to your home address with the assembly instructions.
All the fittings & fixings are well labelled so you know what to use for what part of the assembly. We make sure you have a few extras so don't worry if there's some screws left over!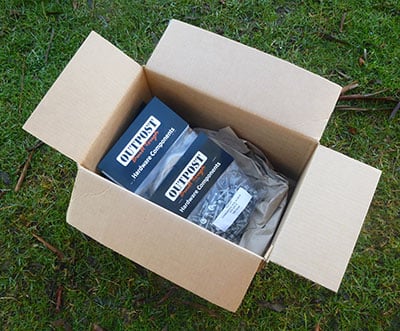 Tips for fixing steel cladding or roofing
Check it's square! 
Before you start fixing the cladding to your building check it is square by measuring from corner to corner diagonally as shown in the diagrams here. Do this for the base of the building first and once this is square then check the upright framing. The picture below shows some people checking the framing is square before the roof cladding goes on.
Strippable film on flashings
Strippable film is a clear pressure sensitive polyethylene plastic film that is applied to some roofing products to assist in protecting the surface from damage and scratching during forming, transportation, handling, storage, and erection.
Strippable film must be removed before prolonged exposure to sunlight, as that may make it extremely difficult to remove. Remove strippable film from the sheet before installation.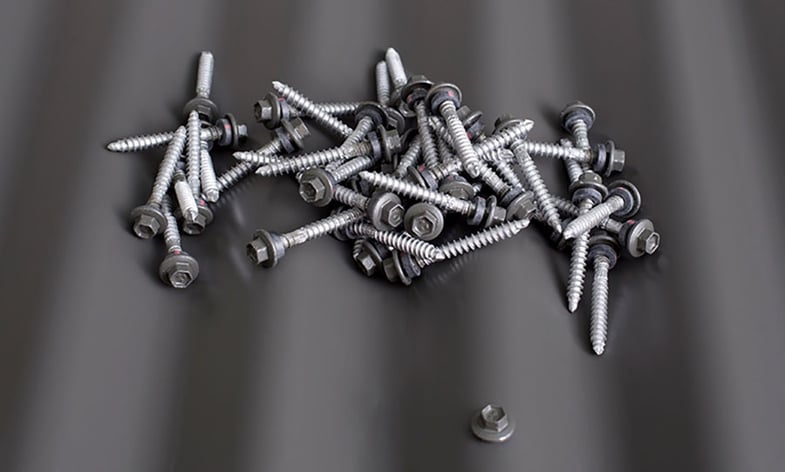 Steel Cladding Fastener Placement
We recommend screw fasteners are placed on the highs of corrugated metal roofing. Some people choose to put the screws in the low/valley of the corrugation, below is an explanation of the pros and cons of the two options.
Installing the metal roofing screw in the high of the corrugated roofing panel means the screws are exposed to less water and debris. The main disadvantage is a less secure connection.
Screws that are installed in the low or valley of the metal roofing panel will result in a more secure connection, but they will be less weather-tight as more water runs down this part. The screw will compress better when attached in the low and you are less likely to distort the metal roofing panel when you tighten the screw.
Wall cladding fasteners can be placed at the highs or the lows or the corrugations. Low or valley fixing of wall cladding is more popular as the screw lines are less visible.

Pre-drill holes to make it easier!
You can pre-drill holes in your roofing to make it easier to get your roofing screws through the steel sheets. The screws that are supplied with Outpost Kitsets are self-drilling screws so this pre-drilling is just an option that can make the job a bit easier. A pre-drilled hole can make it easier to get your screws in straight and you'll need to use less force to push down through the steel cladding. Once you have a roofing sheet in the correct position you can use a steel drill bit to make the holes. Be aware that if you drill a hole in the wrong location there is no way to fix the mistake, you will have a hole in your roof.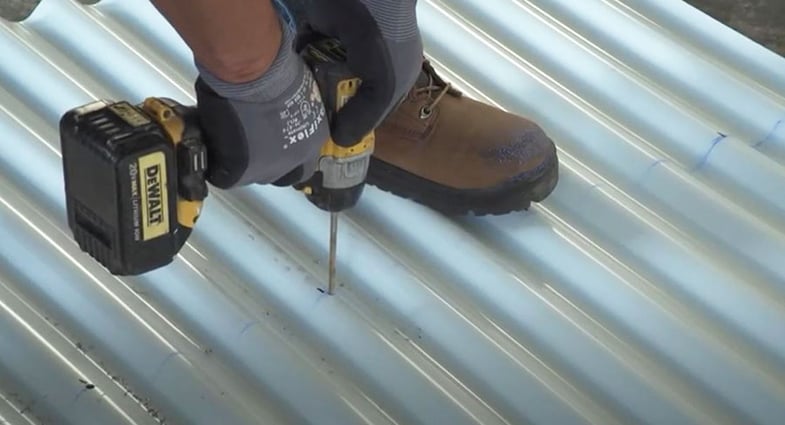 We hope this information will help you with the assembly of your Outpost Kitset Building. Please feel free to contact us if you have any questions, our experienced and friendly team are there to help!