The price of a new garden shed will depend on the size, materials used and quality of the finished product. Prices of kitset garden sheds in NZ can range from as little as $250 right up to $10,000+. Buying a new garden shed is a big deal and it's something you don't want to do twice - So here's some information to help you pick the right one.
Most garden sheds are made out of steel or wood or a combination of the two materials. The quality and thickness or strength of the steel or wood used will also vary. If you want a shed that will last for many years then it's best to do your homework.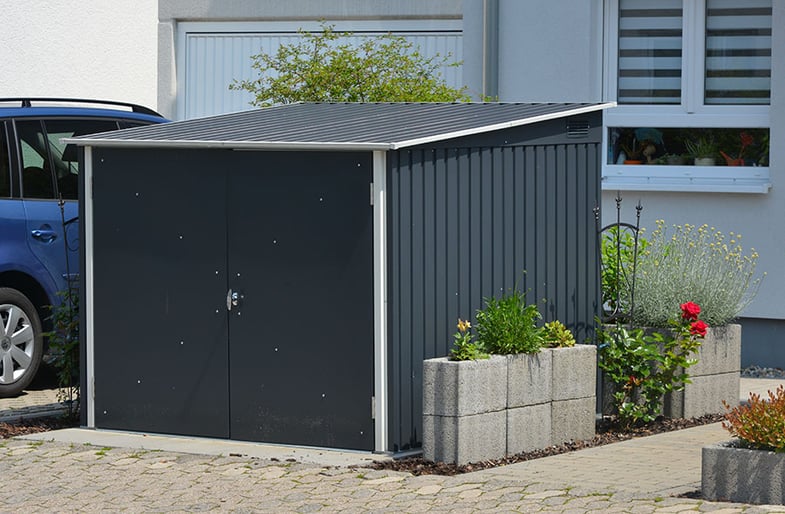 GET A FREE COPY OF OUR CATALOGUE
Steel Kitset Sheds
A cheap shed is usually made of a cheap material such as thin steel. If you're after the cheapest shed you can get then this is probably what you should look at.  There are many options available in a huge range of sizes, just make sure you get one that is galvanised so it doesn't rust and be aware that it might be a bit flimsy. One big advantage of choosing a steel shed is that it won't need painting or sanding or hardly any maintenance.
If you're wanting to hang your garden tools on hooks this can be tricky in a steel shed, a screw or nail won't hold in the thin steel so you might need to buy hooks specially made for fitting to steel sheds and be wary of hanging anything heavy just in case it's not strong enough to hold it.
It's also best to purchase a timber floor with a steel shed as this will help prevent condensation and moisture damage to the stuff you store in there. You will need to make sure that you have a flat and level site to install your steel shed on as if it's not level you it may make it difficult to fit the parts together for assembly.
Pros
Cons
Cheap
Don't need to paint it
Very little maintenance
Lots of sizes to choose from
Might be flimsy
Can get rusty
Prone to condensation/dampness
Attaching tool hooks or shelving can be tricky
Wooden Kitset Sheds
Wooden sheds are typically the sturdiest and strongest sheds, which means they're likely to be more durable, be able to take a few knocks and last for many years. Our wood & tool sheds are also the easiest to work on, you can easily hang hooks for your tools by simply screwing into the timber framing or plywood walls as long as the walls are at least 12mm thick it will be strong enough to hold your garden tools. Be sure to look at the size of the timber framing used when comparing prices of timber sheds as one with 50mm framing will not be as strong as a shed with 150mm framing!
Wooden walls in your garden shed will help prevent condensation as timber is a natural insulator. A wooden shed is likely to be warmer and dryer which is great if you have expensive tools or gear you don't want to get damp.
On the downside wooden sheds will cost you a bit more than a steel shed and they should be painted or stained if you want it to stay looking good for many years. This does mean that you can paint it to the exact colour you want so it will match your house or other buildings.
If you are looking at buying a wooden shed kitset then we recommend you make sure that the timber is treated so that it won't rot. Outpost Sheds are made with H3 treated timber walls and all parts that are in contact with the ground are made with H5 treated timber which is rot resistant for 50-100 years.
Pros
Cons
Strong and durable
Easy to screw or nail hooks or shelves to
Warmer & dryer than steel
Can paint it any colour you want
More expensive than steel
Should be painted to keep it looking great
Kitset assembly might require more tools


Wood and Steel Sheds
There are also many garden sheds on the market that are a made with a combination of timber and steel. In fact, most wooden sheds will at least have a steel roof. A shed made from both wood and steel might just give you the best of both options.

The shed pictured above has timber framing and three side walls, the back wall is clad with Colorsteel that is a top quality galvanized corrugated steel that is very strong and durable. The shed's timber surfaces have been painted to match the customer's house.
What size garden shed do you need?
When budgeting for your new garden shed, an essential factor to consider is the size of the shed. The larger your shed, the more you can expect to pay for materials. 
The average backyard garden shed size has around 4 to 8 square meters of floor space, this is generally enough room for your lawn mower and gardening tools and perhaps even a couple of bicycles. Examples of the dimensions of a 5 square meter shed are 2m x 2.5m and a 8sqm shed dimensions could be 2.6m x 3m.
Many of the kitset sheds for sale are made in imperial sizes such as 6x4ft (1.8m x 1.2m) or 6x8ft (1.8m x 2.4m) which can make things a bit confusing.
When considering your purchase it is recommended to note the position of the door and to check which way round shed companies display their dimensions. An 8×6 at one shed company may be a 6×8 at another. So be sure to check when ordering which size is for which side and which side you require the door on.
What size shed is best for you depends on what fits in your back yard and how much storage space you need.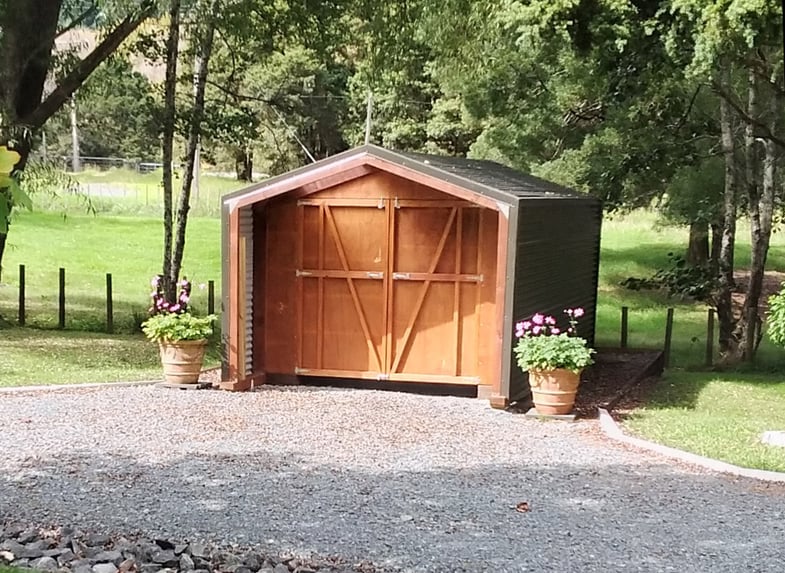 How to work out how much space you need in your garden shed?
Make a list of all the things you plan to store in your shed and then measure up how much space you will need for them. An average lawn mower is 500mm wide by 1500mm long, if you have one that you can fold up the handle like mine then it folds up to 1200mm long so it will most likely be the thing that takes up the most floor space. Do you have a sprayer, fuel cans, ladder, bicycles, surf boards, kayaks etc you want to store in your shed?
No doubt you'll have lots of small things that end up in your shed so to make the most of your space we suggest adding some shelving to your shed. Hooks on the walls to hang tools from are also a great way to make the most of your space.
On top of what you're planning to put in your shed immediately, think about what you might want to store in it in the future. As time goes on, your kids grow up or you take on new hobbies, your storage needs will probably increase and you don't want to have to replace your shed a year or two down the track because you've run out of room. It's best to go for a larger shed than you think you need right now.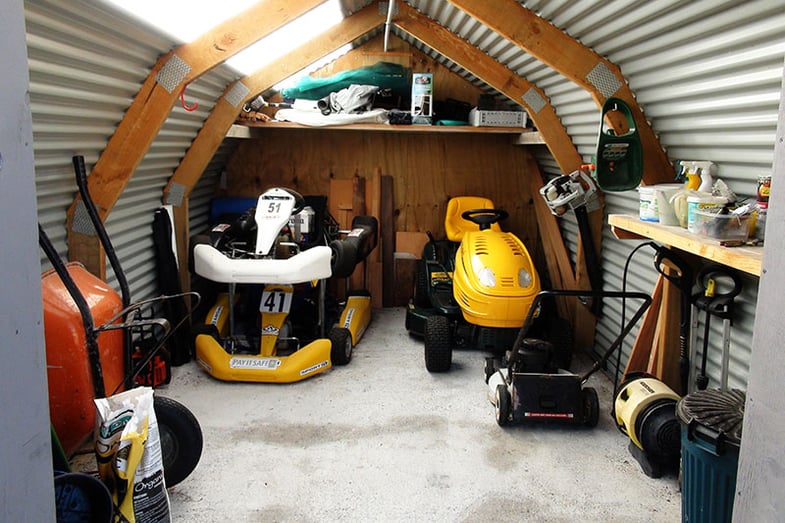 Hidden costs you need to ask about!
When looking at buying a kitset garden shed it is important to understand all the costs involved such as kitset delivery & site preparation.
How do you get your kitset shed home?
Make sure you find out how much it will cost to have the shed kitset delivered to your property or find out if you can pick it up from your local store with a trailer to save some dollars.
Outpost kitsets are delivered to transport depots all over NZ freight free – so this means you can pick the kitset up from your nearest depot with a trailer. Contact us to find out where you're nearest transport depot is. If you don't have access to a trailer then Outpost can organise delivery from the depot to your property and since it's only a small distance the cost is minimised, usually around $300-$500 depending on the size of your shed and distance you live from the transport depot.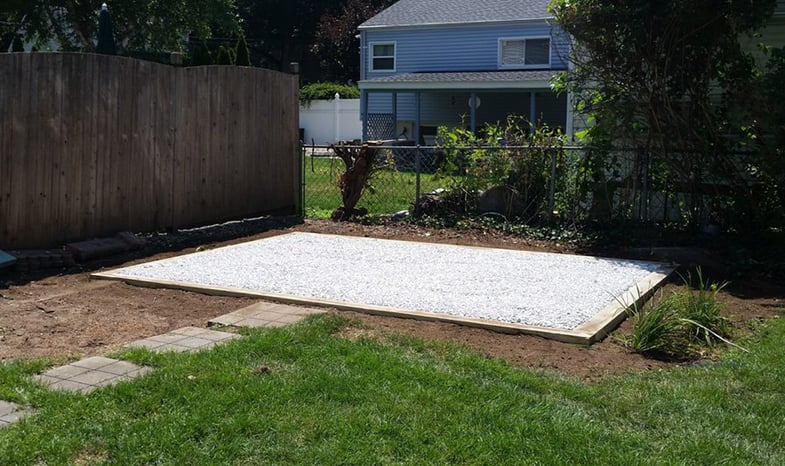 What site preparation do you need to do for your new shed?
You don't want your shed on bumpy ground or for it to be on a slope so, before you build your kitset, you might need to flatten out a site for your shed to sit on. For a small garden shed you might be able to do this the old-fashioned way with a spade and a spirit level. If your site is quite sloped and you need to dig out lots of earth to make a flat area then you might be best to get a landscaper in with a small digger.
Once you have a flat area for your shed you can lay some gravel or a concrete pad for your shed to sit on. If your shed has a floor of its own then what's on the ground isn't so important. If you don't have a floor with your shed then you probably want a concrete or at least gravel base to allow for good drainage so it doesn't get damp and muddy in your shed.
If you're lucky enough to have a nice flat surface for your shed to sit already then you could put your shed that has its own floor straight on the ground.
Most Outpost Sheds have what we call a "skid mounted base" which means the buildings sit on two big timber skids and the rest of the building is built on top of them. Most Outpost Sheds have a timber floor and are very strong and designed so that they can be transported or moved easily. This can make things a bit easier if you have a site that's tricky to get level.
The skids are the only parts on the ground so as long as they are sitting reasonably flat then your shed will sit there fine. You do need to build your Outpost Shed on flat ground to make sure it's square but then you can then move it to your bumpy or sloping site if that's where it needs to go.