Rearing calves is a great way to make a bit of money on your lifestyle block or farm.
Most people buy calves to rear from dairy farms. Most Dairy farms will have calves available between June & September depending on the climate in their location and their preference.
Calves will cost you somewhere between $70-$150 each depending on the season & breed of the calves you are buying. You can make a profit of approximately $100-$200 per calf at weaning time. There is potential to make more of a profit if you keep beef calves until around 18 months of age, presuming you have raised quality animals.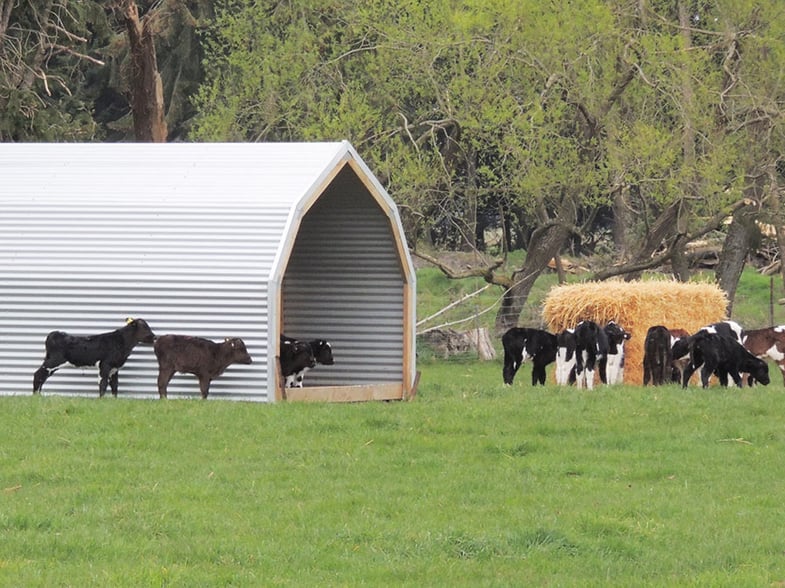 Here's some information that will help you decide if you want to rear some calves on your block.
How to select good calves
Calves should be at least 4 days old
Make sure they have been feed colostrum within the first few hours of birth. Calves which receive inadequate or no colostrum have higher mortality and lower growth rates.
From birth to three days old, calves are extremely vulnerable to infection. Colostrum needs to be given to the calf for the first 72 hours of life.
Select calves with dry umbilical cords 
They should be alert and not lame or sick looking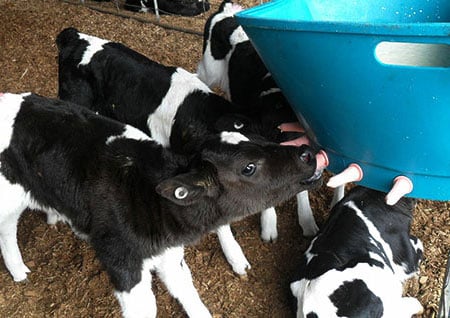 GET A FREE COPY OF OUR CATALOGUE
Feeding your calves
Always ensure your calves have access to plenty of fresh water.
Choose a good quality calf milk replacer (CMR) or whole cow's milk if you can get it from a dairy farm or your own cows.
Most calf milk replacement products are preferable to whole milk. Whole cow's milk doesn't contain added vitamins and minerals that CMR does which helps to improve growth rates.
Calves should be fed at the same times each day to minimise stress.
Ideally milk should be feed to calves at 40°C – it takes more energy for calves to digest cold milk
Scrub all feeding equipment well with hot water and detergent
Remove sick calves promptly to a designated sick pen away from healthy calves to prevent the sickness spreading
Calves should be fed approx. 10% of their body weight in milk per day. Eg. 40kg calf requires 4 litres of milk per day
Use calf feeders with enough nipples for all your calves to access milk at the same time or separate them into smaller groups so you can make sure they all get enough milk.
Feed your calves once or twice per day, twice a day is preferable for the best calf health & growth rates.
Also feed your calves dry feed such as calf pellets or meal made from high quality grains & straw. Molasses is often added to these products to make them more palatable.
Ensure your calves have access to dry feed and grass all the time for the best growth rates. They will naturally eat more dry feed as they get older.
Keep feeding your calves milk for at least 8 weeks before you wean them.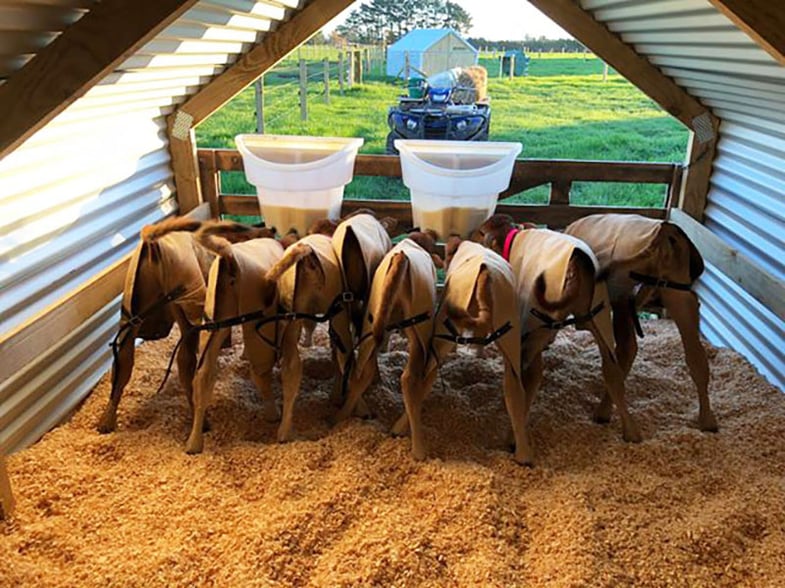 Paddock Shelter for your calves
Calves will grow faster and are less likely to get illness or disease if they have quality shelter and protection from cold wind & rain.
Allow at least 1.52m of floor space per calf in a pen or paddock shelter
If you have more than 12 calves use more than one paddock shelter or pen to separate age groups and reduce the risk of any illness or disease spreading through you whole herd
Relocatable paddock shelters are great if you don't have a barn to house your calves in. They provide affordable shelter for your calves and can be moved around the paddock to fresh grass regularly which will reduce the risk of illness.
Permanent paddock shelters or pens in a barn will need to be regularly cleaned out & disinfected to prevent your calves getting sick. You should also add fresh wood chip to cover the floor of your paddock shelter regularly.
The flooring of your paddock shelter or calf pen needs to be cleaned or changed regularly to remove waste and prevent illness or disease. Untreated wood shavings are a good option.
Calf shelters should provide a nice dry environment for your calves
Shelters should have good ventilation to allow healthy air flow but with no drafts around the bottom at calf height
Think about the orientation of your calf shelter – it's best facing the morning and midday sun, positioned somewhere with good drainage so it doesn't get muddy. Position it so that the back of the shelter is facing into the prevailing wind if possible - this will give your calves somewhere to go out of the wind and also help prevent your shelter from blowing away or getting damaged.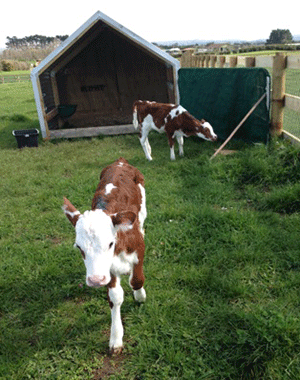 How to check the health of your calves
Noses are clear of discharge and are moist and cool
Calves are alert and have responsive ears with no infection around the ear tag
Navels are soft & umbilical cords dry & clear of infection
Mouths are clear of ulcers
Calves can stand and walk normally with no swollen joints i.e. no joint ill
All calves are feeding, lack of appetite is often a first sign of illness
Calves have shiny, supple coats
If you lightly pinch a calf's skin and it is slow to return to normal it may be dehydrated and need electrolytes immediately.
Outpost kitsets are easy to assemble with step by step instructions. The kitsets come complete with all parts precut & semi assembled. Outpost deliver their kitsets nationwide to their transport depots or Farmlands stores freight free!

For more information check out:
http://www.nrm.co.nz/uploads/p...
http://thisnzlife.co.nz/settin...