Lucette & Steve had been looking for a piece of land with X-factor for some time as a bolt hole to use in their retirement.  They found a property fit the brief with a beautiful landscape and not too far from airports and medical facilities.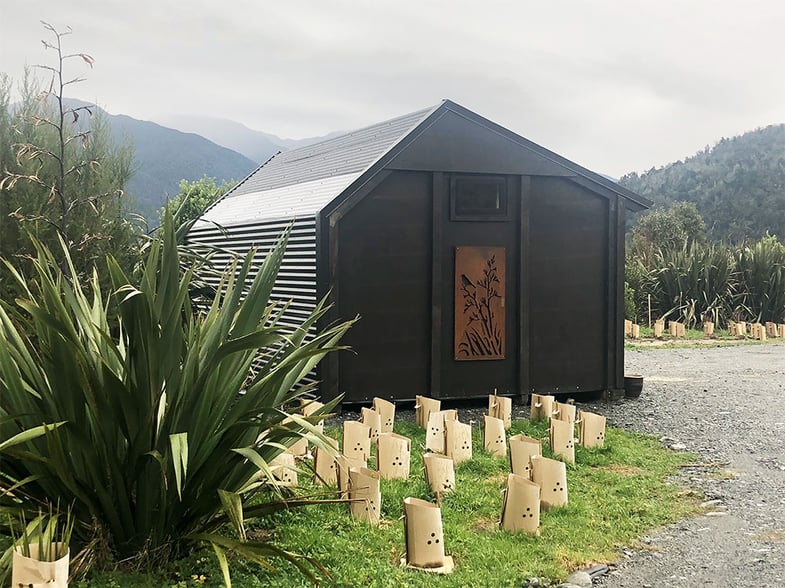 Lucette & Steve have customised their Homestead shed to make it into comfortable cabin accommodation. They've added windows, interior lining, a hanging bed and kitchen bench inside.
"We needed an attractive, solidly built, 'blend into the landscape', DIY solution, that would serve as a lockup and short-term base to hang out while we prepared the land for the house build. 
Building the Outpost Shed on the property also allowed us to start establishing a low-key footprint in our new community so that when we moved in permanently we would already feel at home.
With fibre broadband installed in our shed it allowed us to stay in touch with family and work, yet with no cell phone reception it gives us a nice blend of amenities and isolation!" Said Lucette.
Lucette & Steve were already familiar with Outpost from a previous property they developed where they had 4 Outpost buildings.
"We knew exactly where to go for our new shed.  We built the kitset shell, including painting the outside, as a husband and wife team over a four-day weekend.  While it was hard work and we used a compressor with nail-guns, it was doable." Said Lucette
The Homestead Shed kitset that Lucette & Steve purchased is classified by Outpost as an "Advanced DIY kitset". Only people with good building skills and experience should assemble this kitset without the help of a builder. It has some large, heavy parts that require at least two people to lift into position.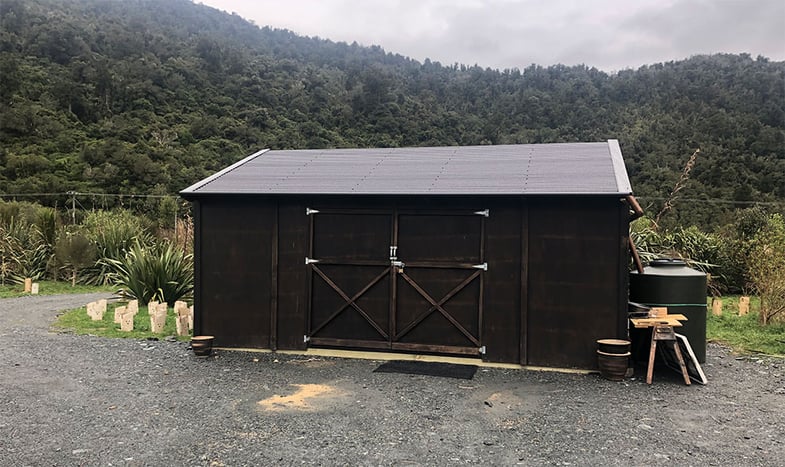 The shed is in a high rainfall area so Lucette & Steve have hooked up the front gutter on the shed to a downpipe to take water away and avoid any extra puddles around their shed.
When we asked Lucette why they chose an Outpost Shed she said:
"Good looks and very robust.  Plus, knowing that you can move the building if you need to, makes it easier to commit the funds and get started.  They feel like a good investment because they can be removed (sold) or put in their final resting place at some later date.  So, it's easy to justify the outlay."
What is your favourite part of your new Outpost Building? 
"So cosy!  And I feel safe.  We have some crazy wind gusts swirling around the valley here (all directions) and our little hut has proven itself in some pretty extreme conditions."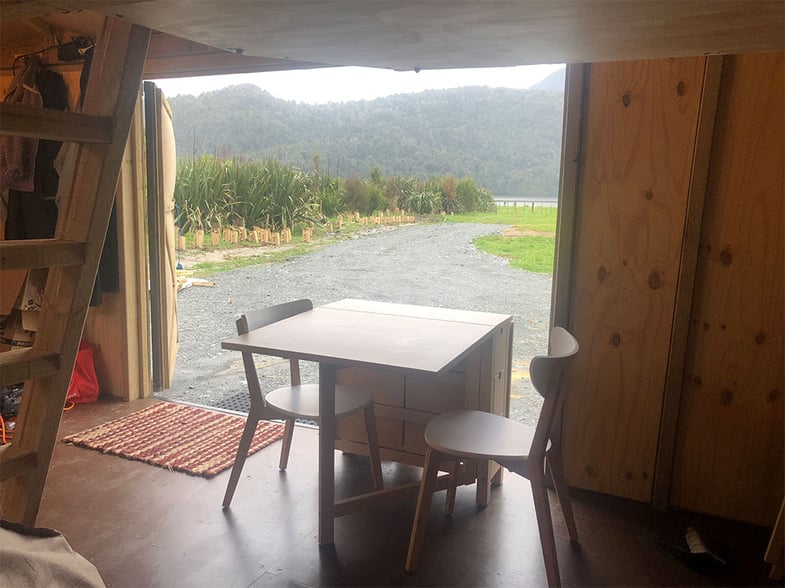 When did you know you had made the right choice by choosing Outpost?
"From other people's comments!  Everyone loves it and wants to know all about it.  I think they're surprised we built it ourselves :)  
Admittedly we've modified ours a bit but the bones are really good and the Outpost buildings are very easy to dress up as cute and rustic.  Who knows how many alterations this little building may have in the future! 
Our last large shed got a couple of make-overs from family living quarters, to stable tackroom / guest accommodation, and back to teenager socialising pad.  Because the basic structure is so solid, it can handle it." Said Lucette.
Has Outpost meet your expectations?
"Yes it has.  It's a robust shed that can be dressed up in many different ways.  We've insulated ours in the floor, walls and ceiling using Ecowool and either hessian fabric or dressed ply as the inside lining. This is relatively cheap and easy to do and looks amazing." Said Lucette
Lucette & Steve have built a hanging bed that helps to maximise the space inside the Homestead Shed. They also added a window to each end wall of the kitset large shed to let more light inside during the day.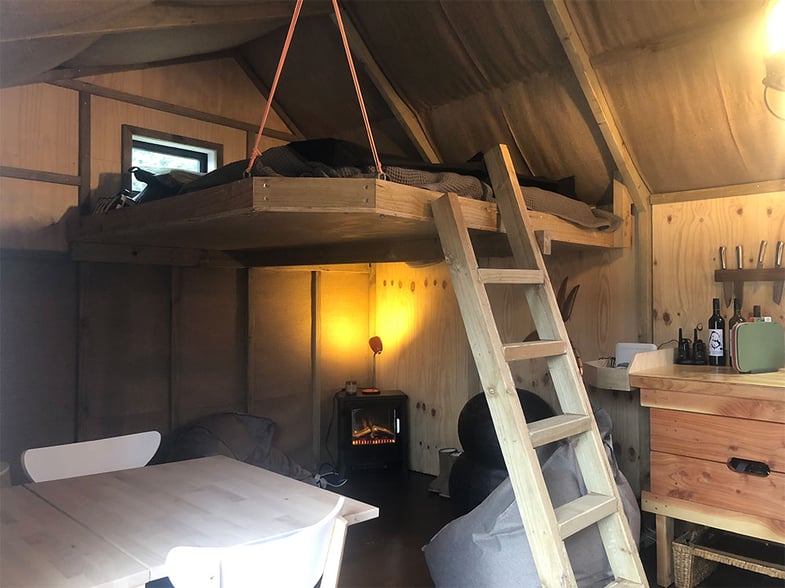 Testimonial:
"This was our fifth Outpost build over a 10-year period.  We are huge Outpost fans because they are such solid structures, have clear assembly instructions and deliver what they promise.  Plus they just look and dress up great, and stand the test of time.  The office and admin team are a delight to deal with and I think this reflects considerable experience and maturity as a business.   So in short: a reliable organisation with a great product and good systems.
Lucette and Steve Hogg"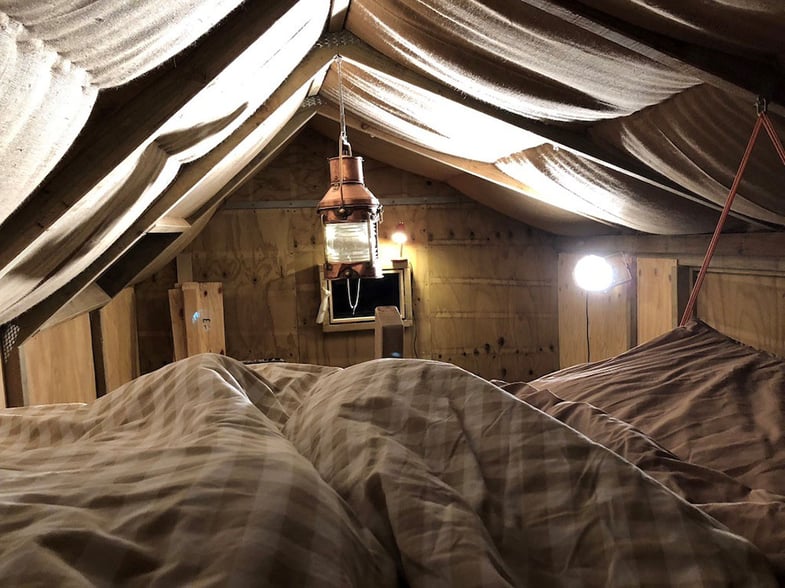 Featured in this Case Study:
Large Homestead Shed
Size: 5.8m x 3.5m x 2.9m high
Great for garden tools, mowers, bikes, tack sheds or a spacious new workshop. The strong plywood floor inside keeps your tools and equipment dry and secure. The strong 6x2 inch timber framing will last the test of time and is also easy to attach shelves to - just nail or screw your shelving directly into the framing.
Built Tough - a seriously strong design made with high quality NZ timber framing and Zincalume or Colorsteel roof cladding. Designed to be easily relocated, extra strong so it can be lifted onto a truck or dragged short distances for site positioning.