Large chicken coop suitable for up to 60 hens!
For serious chicken lovers or a free-range egg business, this hen house is a great choice. It has 8 nest boxes and is relocatable so you can easily move it around your block to fresh ground regularly. Inside our largest chicken coop there are ladder style perches for your hens that are removable for easy cleaning.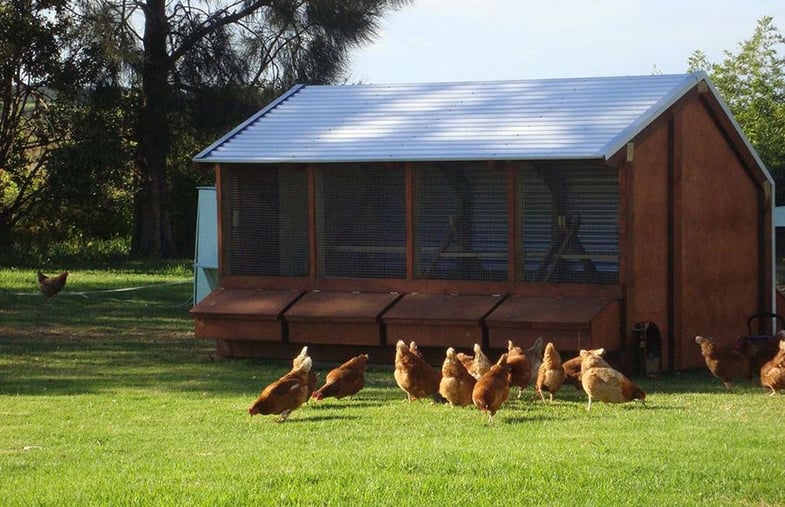 Relocatable Hen House or Chicken Tractor
Outpost Hen Houses are all built on heavy duty timber skids so that they can be easily relocated. They can be dragged short distances over flat ground with a 4 wheel drive vehicle. This is easily done by fixing a tow rope through the pre-drilled holes in the skids. This 4 Bay design or any other Outpost Hen House can be used as a Chicken Tractor.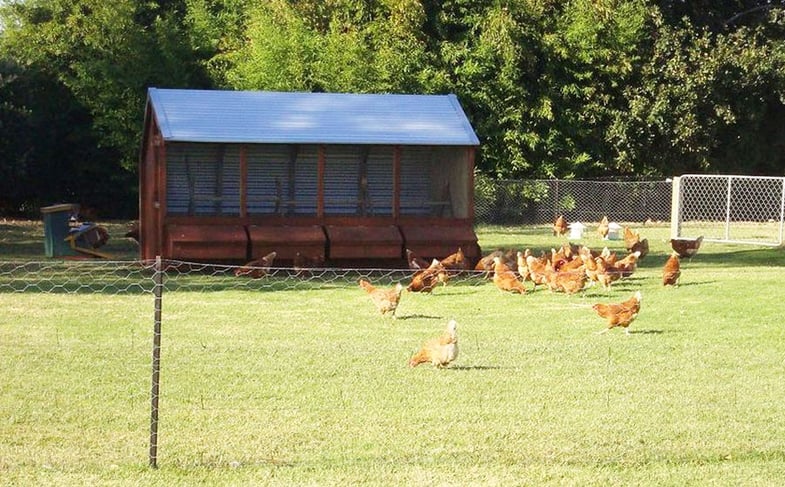 GET A FREE COPY OF OUR CATALOGUE
So what is a Chicken Tractor?
A chicken tractor is a mobile hen house for raising poultry on pasture. Ideally the chicken tractor should be moved daily for proper management of the soil health, and to give your birds constant access to fresh food, while fertilizing the soil and controlling pests.
The idea is you move a chicken tractor across your pasture (or backyard) every day, or every few days, so your flock constantly has fresh vegetation to forage in. Chickens like to eat the tender tips of grass and weeds, and they especially relish bugs, slugs, and snails – which helps make a dent in the pest population on your property. As you move the tractor around, they leave their nitrogen- and phosphorus-rich manure behind them.
It's called a chicken "tractor" because the scratching action of the birds quickly denudes the ground and loosens the top inch or so of earth. It's one way to get rid of a lawn or a weed patch in preparation for planting a garden. But if you just want the birds to perform pest control and fertilize your lawn or pasture without turning it into a dirt patch, make sure to move the tractor on a daily basis so they don't work any one area down to bare earth.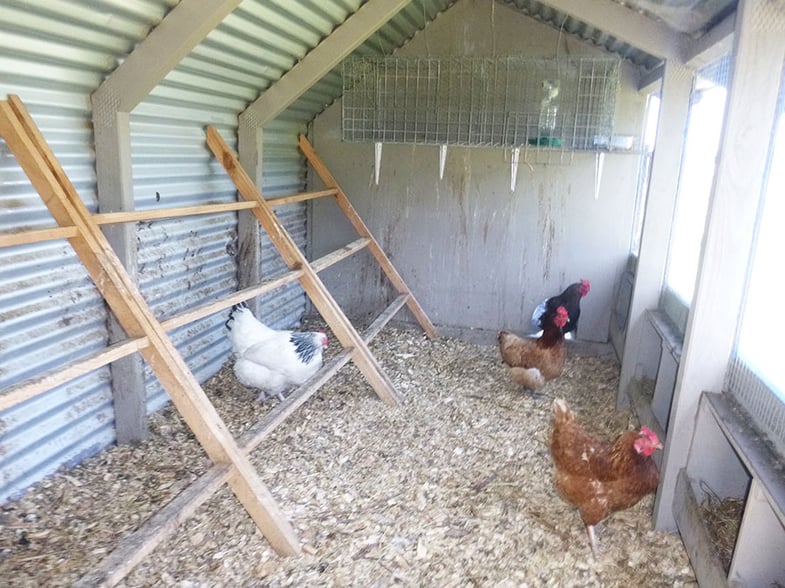 Take a look inside the 4 Bay Hen House
The 4 Bay Hen House has ladder style perches which give your hens 3 different levels to perch on, and plenty of space. A timber floor kit is an optional upgrade. Some people like to use the grass/ground as the floor while others like the floor to keep hens up off the ground – especially if they don't intend to move the hen house regularly. The inside of the Hen House is well ventilated with the wire mesh on the front wall. This lets lots of light inside and prevents it getting damp inside.
There are 8 separate nest boxes for your hens to lay eggs in on this 4 Bay design. The nest boxes are easily accessed from the outside for collecting eggs without having to go inside the hen house.
A person height door in one end wall makes it easy to get inside when you want to check your hens or clean out the hen house. The easiest way to get your Outpost Hen House clean is to take the perches out, replace the nest box hay/bedding and move the whole hen house to fresh ground!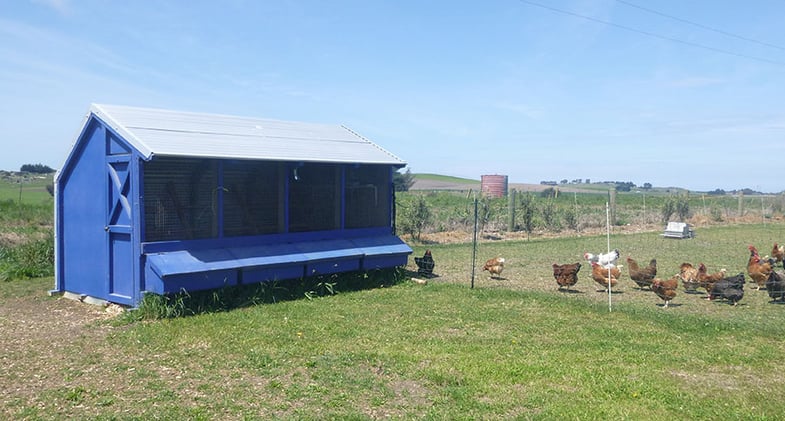 4 Bay Hen House Testimonial
"I highly recommend Outpost Hen Houses, my 4 Bay Hen House is great, it has plenty of room inside with lots of perch space. I move it around to give my chooks fresh ground regularly, we just tow it with a 4WD and move the chook fencing to the new spot.
It has a wooden floor so the wood shavings and everything moves when I move it.
Thank you very much, happy to endorse Outpost.
Kind Regards from Garlyn"
Here's some more photos of the 4 Bay Hen House from another happy customer
Customer Testimonial:
"The new chicken manor has been built!!
This is a thing of beauty, it can support up to 60 of the happy little peckers! It's on skids too, so it can be moved and towed around easily, no more cleaning out the chicken poo either! Look how easy it is to get the eggs our of their nesting boxes!! Very happy :)"