Outpost Kitset Cabins are a fantastic alternative to buying a prefabricated cabin or paying a builder to start from scratch. We pack all the materials required into the kitset (from the framing to the fixings), before shipping the kitset to a transport depot near you. Inside, you'll find everything you need to build your own cabin, including a handy set of instructions. 
To get the best result possible, we recommend that a qualified builder or experienced tradesperson assembles our cabin kitsets, but our ready-to-build kitset approach makes the assembly process quick and easy - saving you on time and money when compared to the process of having a builder constructing a cabin from scratch.
If you're looking at buying a kitset cabin you likely have a few looming questions, including: What's involved with kitset assembly? Do you need to get a builder involved? How long will it take to assemble? And how much will it cost? So with that in mind, we have put together some useful info to help answer those questions and show our kitset construction process. 
Featured throughout this article are photos of one of our Outlander Kitset Cabins being assembled - thanks kindly to our awesome customer that sent us these photos!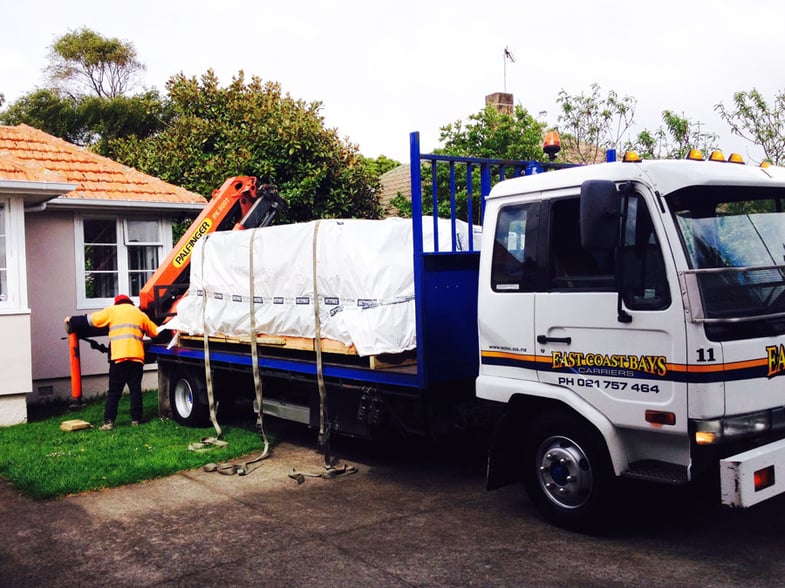 How big is the kitset package and how will it be delivered?
An Outpost Kitset Cabin is made with top-quality, heavy-duty timber framing so the kitset package is rather heavy and will need to be delivered by hiab truck to your site. We deliver our kitsets to Toll Transport Depots in NZ for free and from there they can get you a quote for hiab truck delivery from your local Toll depot to your site. Cost for this is usually somewhere around $500 - please contact us for a quote to confirm pricing.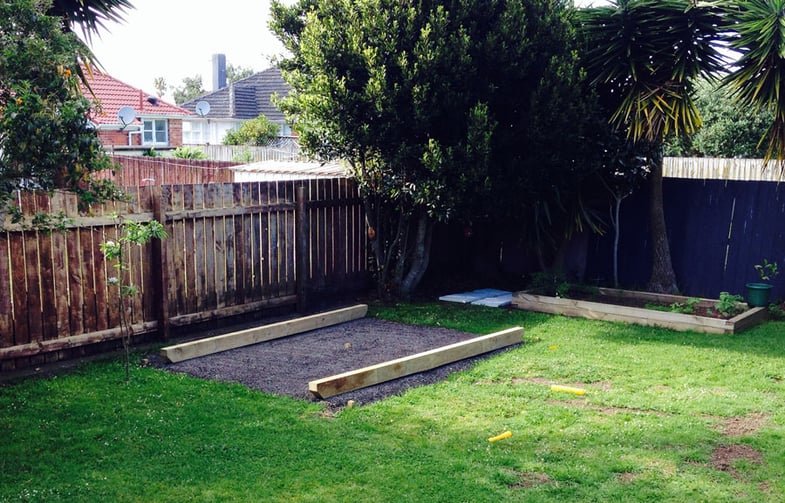 What site preparation do I need to do for my kitset cabin?
Outpost cabins are built on top of heavy-duty skids, so all you really need is a bit of flat ground to assemble it on. The cabin flooring sits up on top of the ground treated timber skids which prevents moisture from getting inside. It is very important that the site you choose for your cabin is nice and level. Uneven terrain such as a hill or undulating ground under your cabin can make doors and windows hard to fit and could lessen the strength and stability of your cabin over time. A concrete or gravel foundation can help ensure a stable and level base, protecting your kitset cabin investment for years to come. 

Should I insulate my kitset cabin?
Our kitset cabins don't come with insulation, but you can easily add it yourself during assembly. In the photos shown our customer installed insulation under in the roof and flooring to give added thermal resistance and provide extra comfort in those colder winter months.

Kitset cabin timber framing
Outpost cabins come with semi-assembled framing that makes it quick and easy for your builder to get the job done right, first time. The framing in our cabins is made with NZ grown, high quality treated timber and they are designed to exceed NZ Building Code standards. The framing is all covered with building paper - this is a strong, fibrous paper that blocks water and moisture from entering from the outside but allows moist air to pass through from the inside, preventing a build-up of moisture inside walls that can lead to mould.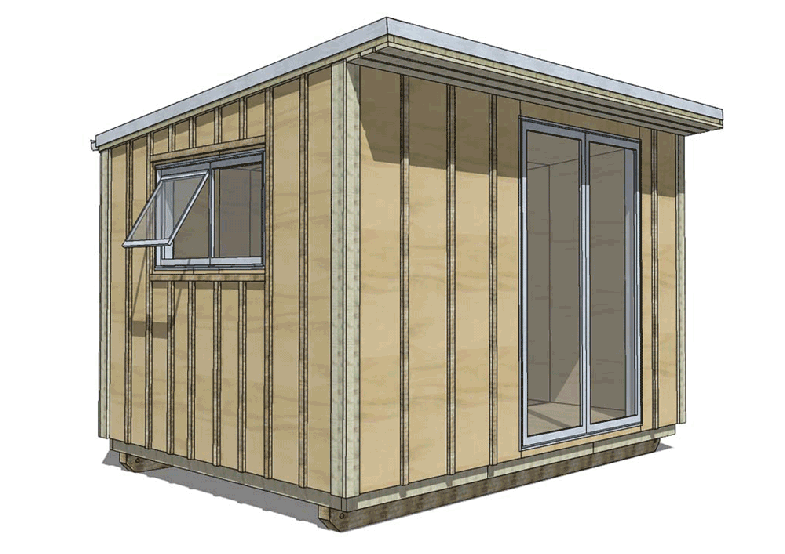 Wall cladding on the Outlander kitset cabin
The Outlander Cabin depicted in the photos in this article (and above animation) comes with exterior grade plywood wall cladding as standard, but it can be upgraded to Zincalume or Colorsteel cladding if you choose. The plywood sheets come precut and are easy to fix in place by following the kitset instructions supplied.
Interior wall linings are also made from quality plywood, however if you would prefer to use Gib Board (or another alternative), you are free to request your kitset cabin be supplied without interior wall linings and then source any alternative materials yourself.

Fitting windows and doors to your kitset cabin
Outpost Kitset Cabins come with high quality aluminium windows and doors. You can choose from a ranch slider or french doors for your cabin and a range of different window options. The aluminium doors and windows are available in a range of colours as well. All window and door openings are covered with aluminium joinery tape which is a flexible flashing tape used around framed joinery openings as a secondary weather resistant barrier.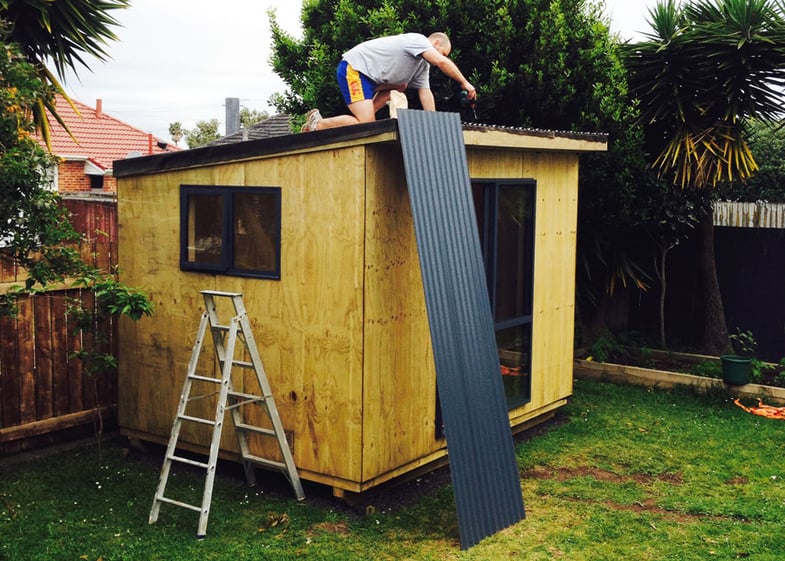 What kind of roofing is on an Outpost kitset cabin?
Outpost Kitset Cabins come with high quality corrugated steel roofing with your choice of genuine Zincalume or Colorsteel that is made right here in NZ and comes with 15+ year manufacturers guarantee. The roofing steel is supported by timber rafters.
Roof flashings for your kitset cabin
To make our cabins extra weatherproof they come with roof flashings to cover the edges around the roof. These will be supplied to match your chosen roof material – either Zincaulme or Colorsteel. They are screwed in place once your roofing sheets are on. Some of our other cabin designs have guttering on them to catch rainwater such as our Lakeside Cabin or Settler Summer House.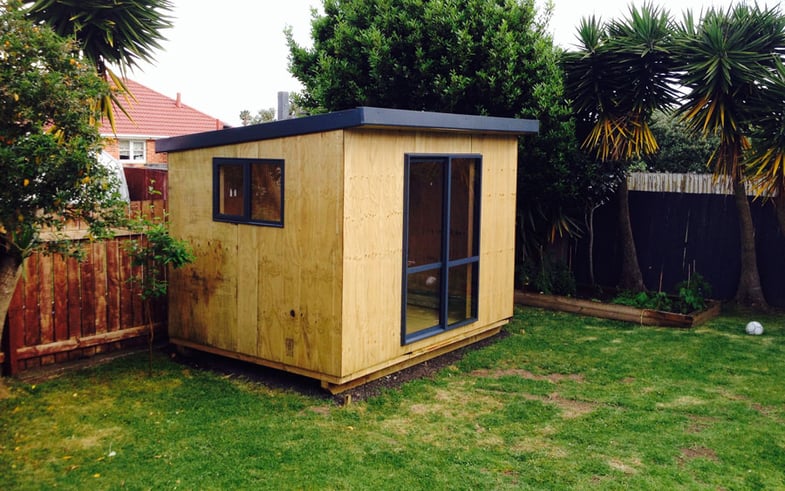 Pictured above is the Outlander Cabin almost finished! Just the exterior timber battens left to go on.
Outpost Kitset Cabins are relocatable!
With some kitset cabins, once you've built it, it's there forever - no changing your mind. Not so with Outpost Buildings!
All our kitset cabins are mounted on tough timber skids and require no fixed foundation. This means that you can tow, trailer or truck them wherever you want, even after they've been put together. 
Your cabin can easily be lifted onto a hiab truck to shift. No matter what size you decide on, the portability of our cabins make them truly yours: put them where you want, when you want or on-sell them if you no longer need it.
Do you need a building consent for your kitset cabin?
New exemptions to the NZ Building Code mean you can now build a shed or sleepout up to the 30sqm size, without the expense of a permit - but there are some rules to adhere to, so to make sure your project fits within the rules click here to learn more.
For buildings that require electric wiring to be installed, you will still need to use a professional electrician. The same goes for any plumbing you want added to new buildings - this work will still need to be done by a professional plumber. It would also be wise to check with your local council to make sure you are allowed to position your new building where you want ahead of time, and ask if there are any issues related to resource management or the district plan (such as building close to a boundary).
We hope that helps to give you a good picture of the installation process of our quality kitset cabin range. You're welcome to call our friendly team on 0800 688 767 if you have any further questions and we'll be happy to help.
To see the full range of Outpost Buildings kitset cabins click here.