Greg & Khirsty Fleming have a lifestyle block close to Wellington.  They have lived there for 30+ years, raising two daughters, working in the city and tinkering away as time and opportunity allows. The recent addition of a full size floodlit arena and Outpost Stables has enabled eldest daughter Kate's business, KF Equestrian, to flourish.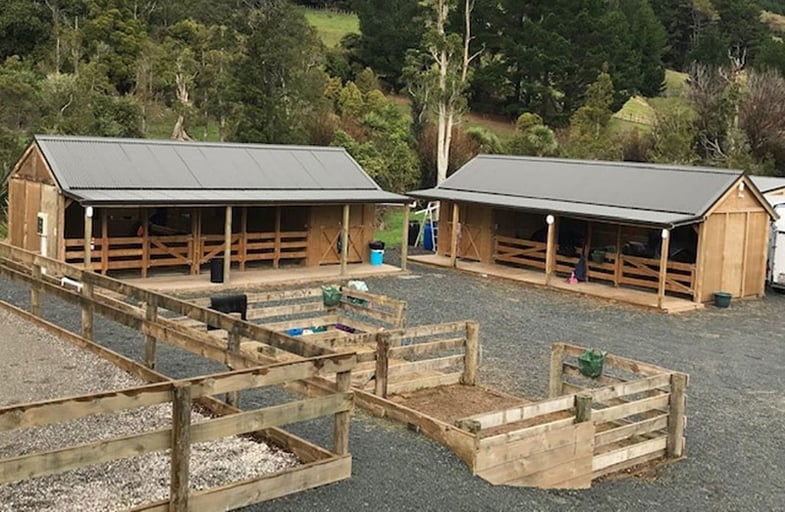 Kate's passion is eventing, competing at up to level 4 on her team of horses who all love their stables – even the 17hh warmblood is more than comfortable in them overnight.  When she's not competing Kate is breeding horses, breaking them in, schooling, coaching clients at home and instructing at local pony clubs. 
The Fleming family also have granddaughter Charlotte, a typical 6 year old (whose enthusiasm knows no boundaries and is her mum Kate's biggest fan) as well as Tui, a retired working dog a few sheep and, of course, chickens.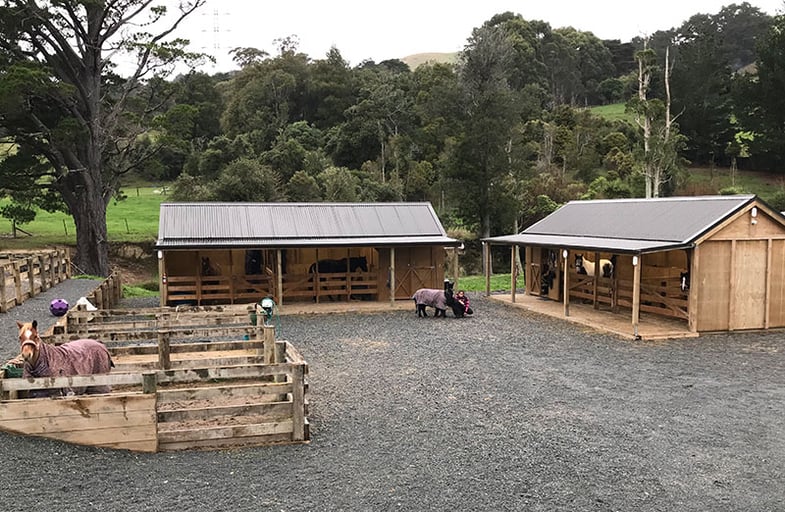 What was your experience with Outpost Buildings?
"We started with a blank piece of paper or more accurately, a bare piece of land.  We built an arena and then did the research on buildings to complete the project for our daughter's equestrian business. 
We visited several rural properties in the area and were impressed by the Outpost stables.  They were solid and authentic.  The owners were all Outpost fans!"
"We contacted Rachael at Outpost, who was patience personified as we explored the whole range of buildings with various modifications.  We finally settled on four Outpost Buildings, all tweaked to suit our needs.  There was no hard sell from Rachael, just professionalism with personality!"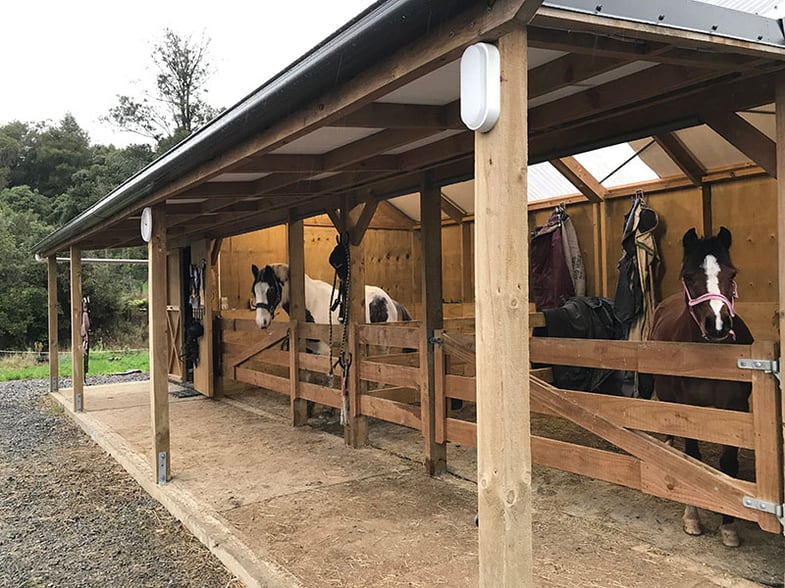 "We added verandas to the Settler Horse Stables, which was a no brainer in Wellington considering the, at times, challenging weather.  There's a tack shed on the end of one stable and a feed shed on the end of the other. The horse shelters (sometimes referred to as horse apartments by our visitors) save the paddocks when wet." 
"The buildings are very functional for Kate's equestrian business for both herself and clients that come to do training."
"We also got a hay shed from Outpost that is a Hunter Shelter design.  We can store 250 bales in there and still have space down one end for horse rugs and the like." 
"Finally, a replacement wood and implements shed was required and we didn't need to look far for the ideal design. A large enough shed to store wood for several winters and a slightly different look to the other buildings to provide a nice contrast."
"No regrets, the horses are happy and so are we."
.
Pictured above in the background is the Hunter Hay Shed that is 7.2m x 3.5m x 2.8m high. 
The Fleming's have put a cover over the front to keep the rain out. This design is 25.2sqm and also a relocatable design so no need to get a council consent in most NZ districts.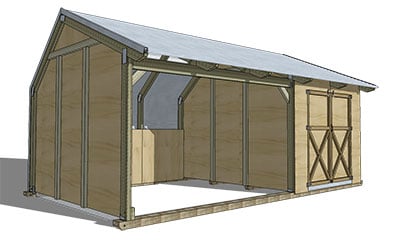 The building that the Fleming's use for firewood and implement storage is a Homestead Shelter with Double Tack Shed that was customized to suit their requirements with a timber slat wall & floor on the shelter end to keep their firewood ventilated and dry. 
Building size: 5.8m x 3.5m x 2.9m high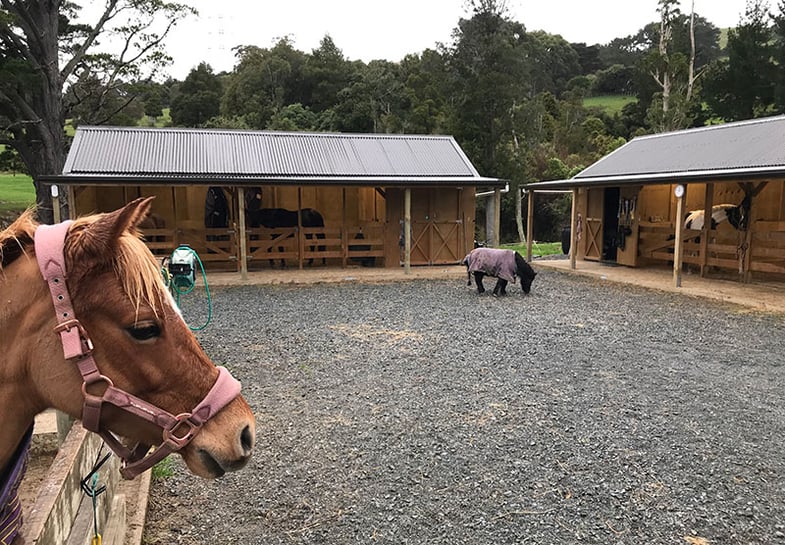 How did kitset assembly go for you?
"With a builder in the family we were well guided as we tackled the buildings, one at a time.  Corey and Rachael from Outpost kept in touch as we progressed from one building to the next which was much appreciated."
"Finally, we can't not mention one of the biggest factors in favour of our Outpost buildings – no resource consent required and if we need to move them then we can."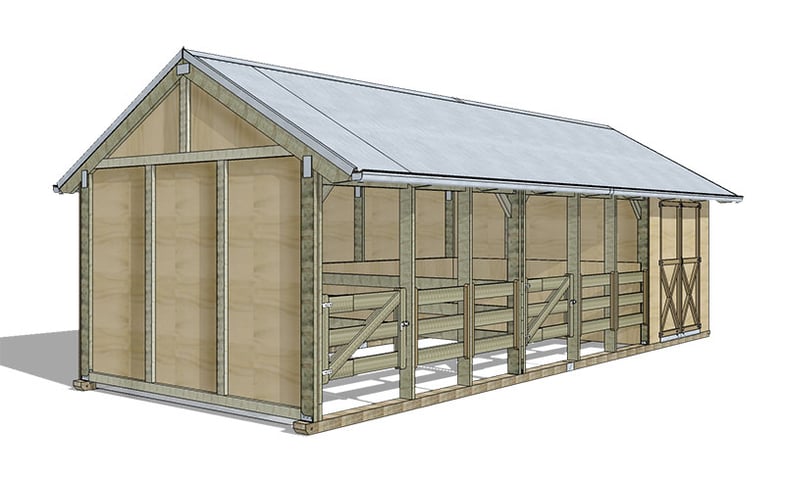 Settler 2 Bay Stable with Tack Shed
The stables that are featured in this blog are our Settler Stables with two stalls and a horse tack shed for storing equipment or feed etc. This design can be customized to suit with a range of options including:
Veranda on front like the Fleming family have added.
Timber gates and stall dividing rails.
Enclosed or metal framed stall walls and gates.
Colorsteel roofing upgrades.
Tack shed can be positioned at either end or in the middle.
Call us for more information or an obligation free quote on 0800 688 767