Alpacas make great lawnmowers because instead of pulling grass out by the root, they nibble off the top of the plant.
Their feet have soft pads which won't churn up the earth
Baby Alpacas are called Crias (pronounced "Cree-uhz")
The gestation period for alpacas is 11 1/2 months - almost a whole year!
Alpaca fibre comes in 22 natural colours
There are 2 types of alpacas; Suri and Huacaya
Suri alpacas have long fibre that looks a bit like dreadlocks - pictured to the right
Huacaya alpacas have shorter fibre that looks fuzzy like a teddy bear with tightly bunched curls
Alpacas love to have dust baths
Alpaca fibre is flame resistant
Alpaca will appreciate having access to a paddock shelter, but if you have trees as wind breaks; this is mostly all they need. Their fibre provides excellent insulation and protection from the cold however, higher temperatures can cause them to become stressed so shelter from the direct sun is very important. Shade trees or paddock shelter buildings are common options and animals can be frequently seen sitting under them during the hottest hours.
Whilst alpacas will usually sit in the paddock during showers and light rain, no animal enjoys the impact of heavy raindrops or hail and will seek shelter. Again, trees are a common solution, but many owners provide constructed paddock shelters or run-in alpaca housing.
GET A FREE COPY OF OUR CATALOGUE
Click here for more information on Livestock Paddock Shelters
Pictured below is some alpacas in their Outpost Paddock Shelter with a shed on one end for storing feed. This design is relocatable, which means you can move it from paddock to paddock if you want to. 
Product Code BY301TK1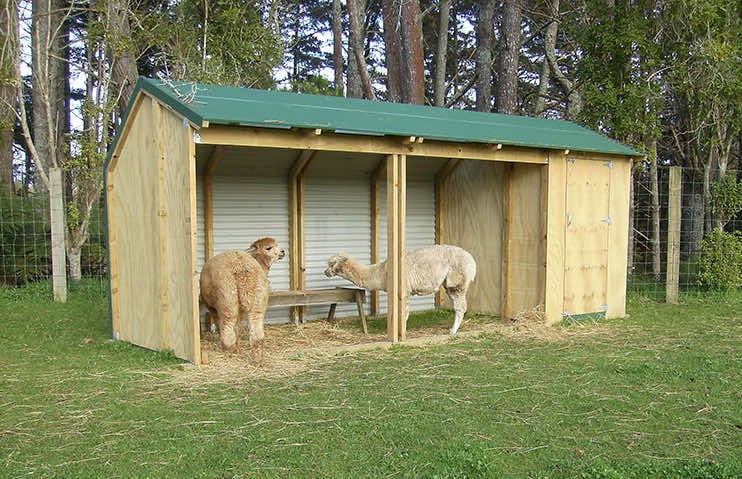 Alpaca Shelter Testimonial:
"Outpost Sheds make a real statement on our property. Over the years we have purchased 5 buildings, one being for calves and the other 4 for alpacas. We always use the permanent green roofing as it blends in with the surroundings. The latest shed has a tack room which is ideal for holding hay as it is at the back of the property and I don't have to carry feed across the paddocks.
Delivery is always prompt and without hassles and the assembly instructions are so easy to follow for construction. The alpacas go in for shelter and I can feed them in there out of the rain saving on feed which they won't eat if it gets wet. The fact they can be moved if you don't get it right first time is a bonus and I guarantee they won't blow away in a storm.
The staff at Outpost are very cooperative and helpful and always available if you have any questions re delivery or assembly. If we ever need a shed or shelter for chooks, calves, alpacas or in fact any stock Outpost would be my first option their sheds are built to last and last.
Susan, Waikato"

Reference: www.cornerstonestud.co.nz/alpaca-info.html