Outpost Buildings can customise their designs to suit customer requirements. Take a look at this custom designed stable.
Hunter style stables from Outpost Buildings have a mono pitch roof line that is higher at the front for easy access. This makes it easier to get horses in & out of. The Hunter design is modular so can be extended to suit your needs by adding more stalls, tack rooms or covered areas.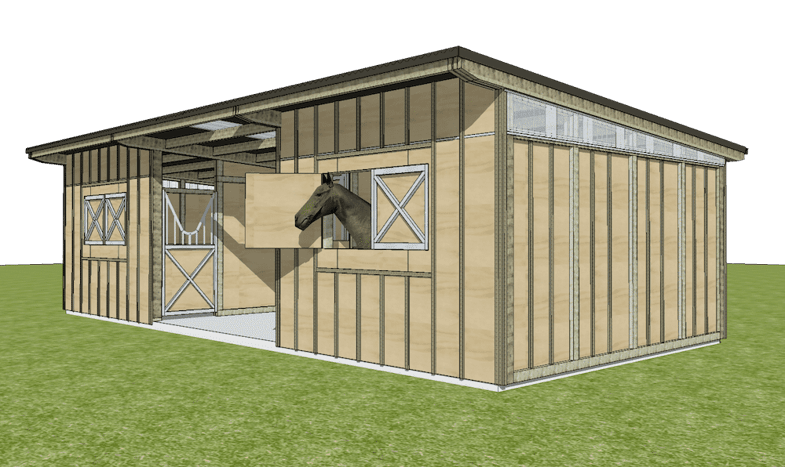 The horse stable building featured here has two generous sized stalls (3.6m x 4.8m) with plywood barn style windows for extra ventilation. The solid timber stall doors are easy to use and there is an optional upgrade available to extra strong metal framed doors (shown here).
The covered area in between the two stalls is great for grooming or feeding. At the back of the covered area there is also a tack room for storing feed and tack equipment.
There are clear panels in the side cladding and roof for interior lighting. The stable is designed to be built on a concrete foundation and the customer can add bedding of their choice such as stable rubber mats or sawdust.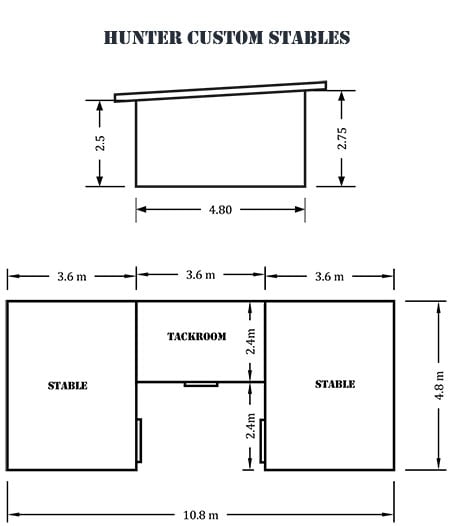 Building Specifications
Floor area: 10.8m x 4.8m
Height: 2.75m at front, 2.5m at back
Tack room size: 2.4m x 3.6m
Durable treated timber 6x2 inch framing
Super strong design
Exterior grade 15mm plywood end walls with optional timber battens
Corrugated iron or Colorsteel roofing
Spacious interior with solid 15mm plywood kick boards
Metal framed stable doors with optional anti-weave top
Ready to assemble kitset with precut parts
Kitsets come complete with all hardware & fixings required
Advanced kitset: We recommend a builder assembles this kitset.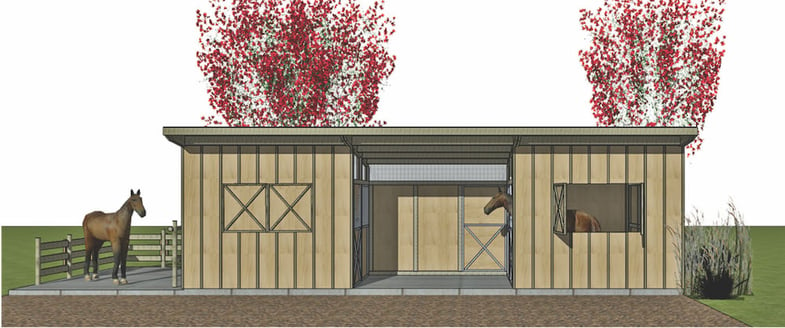 GET A FREE COPY OF OUR CATALOGUE
Outpost Buildings are high quality guaranteed!
We guarantee the quality of all kitset components and kitset prefabrication done in our workshops. If any components are damaged when the kitset arrives we will replace them. 
All buildings are supplied as a kitset, so any damage made to parts during assembly is not covered by this guarantee.
Exterior plywood on Outpost Buildings should be coated with 2-3 coats of a protective wood stain or paint. Exterior plywood surfaces are not guaranteed if this is not done within 3 months of purchase.