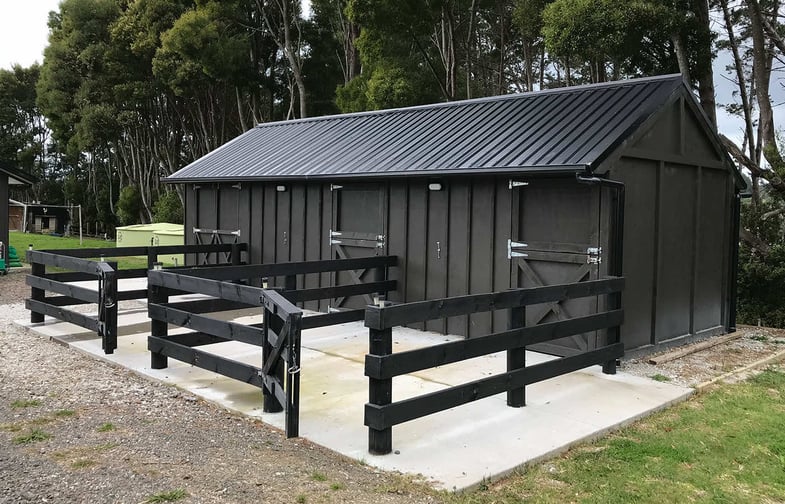 Outpost custom designed these stables for a customer to suit their site and requirements.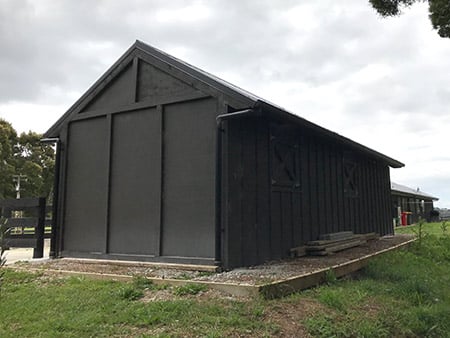 This stable design is based on our Settler stable which is a modular design. Settler Stables have a centre pitch roof that look great and is very strong. The stables have 2 generous sized stalls with barn style wooden windows for extra ventilation and barn style front stall doors. There is a tack shed at the far end which is handy for storing feed and tack equipment.
There are clear Topglass panels in the back of the roof to let some natural light inside the tack room. The stable is built on a concrete foundation and the customer can add bedding of their choice such as stable rubber mats or sawdust.
The timber post and rail yards at the front of the stables are great for saddling up and grooming etc.
Timber framed windows in the back of stalls are great for extra ventilation for the horses.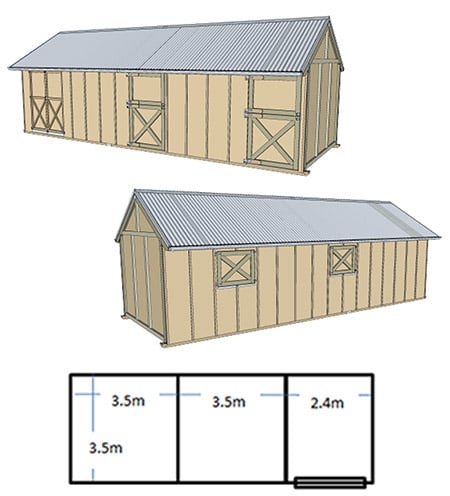 Building Specifications:
Overall Size: 9.6m x 3.5m x 3.5m high
 
Height: 3.5m at apex, 2.1m at front
Durable H3.2 treated timber 6x2 inch framing
Exterior grade plywood end walls with timber battens
Ebony Colorsteel roofing, flashings and D gutters for water catchment
Spacious interior with solid 15mm plywood kick board
Double lockable doors to tackroom
Treated ply floor in tackroom
Solid ply & timber framed doors on stalls
Solid half height ply & timber stall divider inside
Supplied as a ready to assemble kitset with precut parts
Advanced kitset: Builder assembly required.
Timber framed windows in the back of stalls.
GET A FREE COPY OF OUR CATALOGUE
Design the perfect stables for your horses!
Outpost can custom design horse stables in NZ to meet your requirements. Tell us how many stalls you want, and what else you want in your stables like tack shed storage, float parking and covered yards.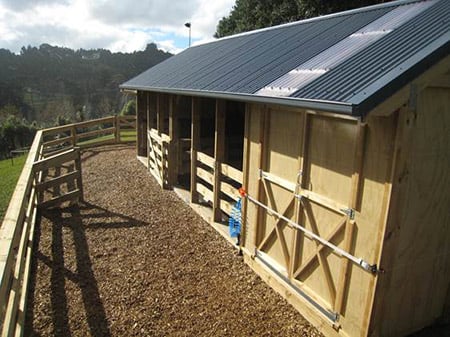 Pictured here is another variation of the Settler Stable in the same size with standard timber gates & rails instead of the fully enclosed front walls in the stable featured at the top of this page. Below is a testimonial from this customer.
Horse Stable Testimonial:
"Outpost Buildings was really easy to deal with, great team and we are very happy with the final product. We will certainly build another one of your products soon."


To find out more about our Custom Stables call us on 0800 688 767 or email sales@outpostbuildings.co.nz to let us know what you want.