Our Upland Shed has been chosen by many of our customers to store their ride on mower, bikes and other tools & equipment. The strong design can handle the worst weather nature can throw at it and it's also relocatable!
The strong double doors make it easy access to drive your mower straight in with plenty of extra space and you can easily add a padlock to them to make them lockable.
Clear panels of high quality Topglass in the roof are there to provide a bit of natural lighting inside.
Optional plywood floor available so you can choose to just sit your shed on the ground or a concrete pad depending on your preferences and requirements.
Keeps everything on the inside dry and secure; quality Zincalume or Colorsteel cladding with flashings on both ends keeps all the wind & rain out.
GET A FREE COPY OF OUR CATALOGUE
Ride-on Mower Shed Testimonial:  
"I have found Outpost Buildings to be reliable, the product an Outpost Shed was good quality and assembled well. The staff at Outpost Buildings are very helpful and communicative, a pleasure to deal with.
Steve Bentley"
The shed in this testimonial is the Large Upland Shed (product code UR301GS). It is 5.8m x 3.0m x 2.5m high. This customer has chosen Colorsteel cladding upgrade and laid their own concrete pad to use as shed flooring.
Customer Testimonial:
"I don't know if I could make my praise for this shed short, I absolutely love it! Not only is it the best looking shed around it is so solidly constructed, completely weatherproof and wind proof that I knew I wanted one as soon as I saw a picture of it.
It's the perfect size for my mowers, gardening equipment and because it's dry I also feel safe keeping other electrical garden tools in there too. I decided not to hide it at the back of my property and put it in the middle of my orchard where it is easily accessible and the style makes a statement too.
My neighbours have shown great interest watching it being put together. I've had inspection tours whilst men stood around with arms folded, solemnly nodding their heads and agreeing what a great shed, after much deliberating they then of course need a cold beer.
Thanks again for such a great shed I am so glad I invested in it.
Very best regards
Marilyn"
The shed in the testimonial above is the Small Upland Shed (product code UR303GS). It is 3.6m x 3.0m x 2.5m high. This customer has chosen Colorsteel cladding and a plywood floor upgrade.
Click here for more information and pricing on the Upland Sheds >
How can these sheds be relocated?
Upland Sheds from Outpost feature extra strong 6x2 treated timber framing and 6x6 inch skid mounted base. The corrugated iron cladding is run horizontally which also gives the building extra strength.
The strength of the timber framing and unique design means the building can be easily lifted by hiab truck or even dragged short distances on the ground – which is great for positioning your shed into that tricky spot in your backyard.
Also since these tool sheds are relocatable if you ever move properties you can move your shed with you, or sell it on to someone else if you no longer need it in the future.
All Outpost buildings are supplied as a ready to assemble kitset with precut semi assembled parts and step by step instructions. Our kitsets are delivered nationwide to transport depots freight free!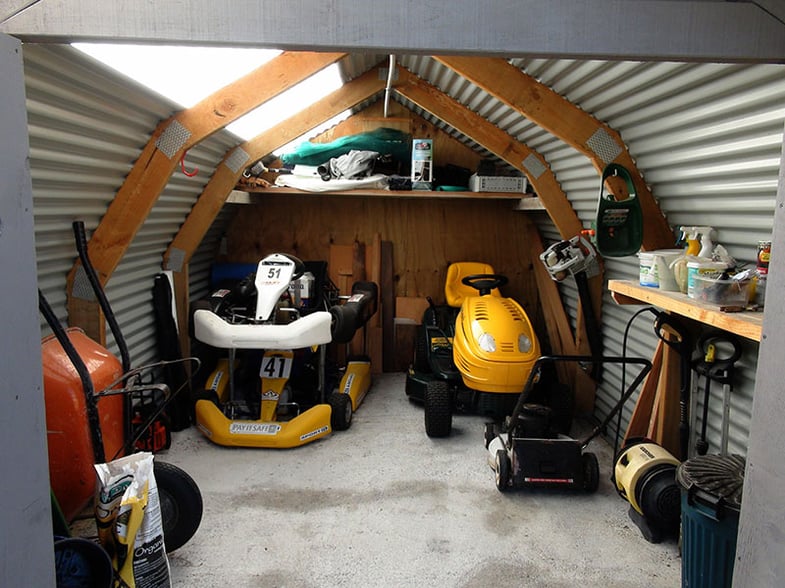 Lots of room in this shed!
The timber framing in Upland Sheds makes it easy to add your own shelves and hooks for hanging things on. Just nail your timber shelves straight into the framing. See the picture above as an example. Upland sheds are 3 meters wide which gives you plenty of space for parking your mowers, motorbikes, go karts, wheel barrow, tools and equipment.
Click here for more information and pricing on the Upland Sheds >