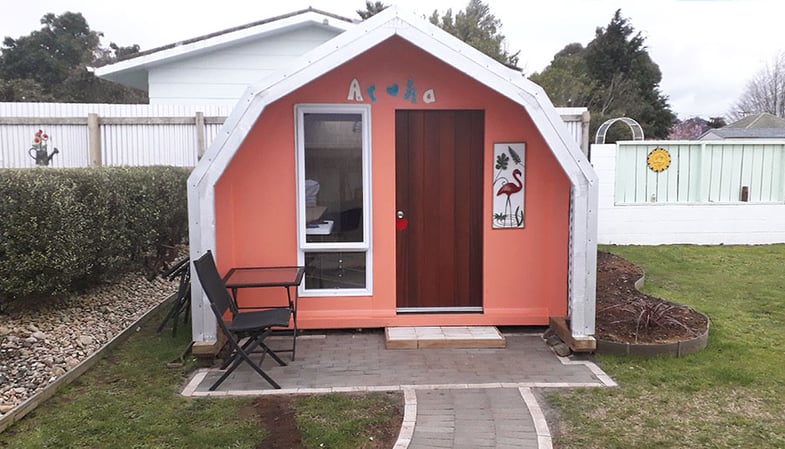 When Marie decided she wanted a hobby room, she looked around and found the Outpost Garden Shed that she liked the look of. Her husband Colin ordered the Upland Shed from Outpost without the barn doors and got to work building it for her.
As you can see in the photo above Marie's Hobby Shed has a nice timber entrance door and aluminium window on the front. Colin made these alterations to the shed himself by cutting a new front wall and adding a second-hand window and door.
How Colin converted the Upland Shed into a Hobby Shed
The Upland Shed kitset usually comes with double barn style doors at the front which are great for garden sheds because they open up wide enough to drive a ride on mower through. Marie wanted a window to let more light inside her hobby room so that's why Colin ordered it without the barn doors. Colin said he "assembled it, put a floor in, lined it and got a second-hand window and door. Job done."
The Upland Shed comes with a clear panel of Topglass roofing to let daylight inside. Marie has her work desk sitting underneath this which will give her good light during the day for her crafts.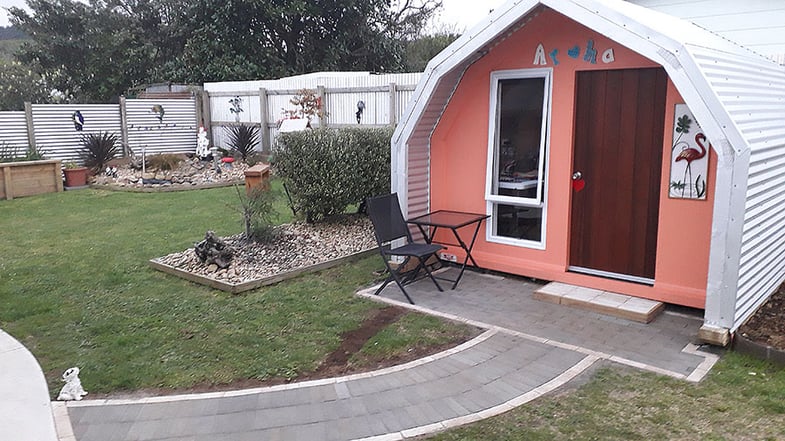 "We added power and a brick path, and now I hardly see her. If she's not sewing, she is right into ceramics. It's her place. A real good investment. I was impressed at how easy it was to construct with the good clear instructions provided."  
Inside Marie's Hobby Room she has a book case, a work desk and a table. The room inside is 3m x 3.2m which is about the size of a small bedroom. You'd fit a single bed or couch and desk or drawers in there comfortably.
"Happy wife with a new she-shed craft room. Thank you Outpost."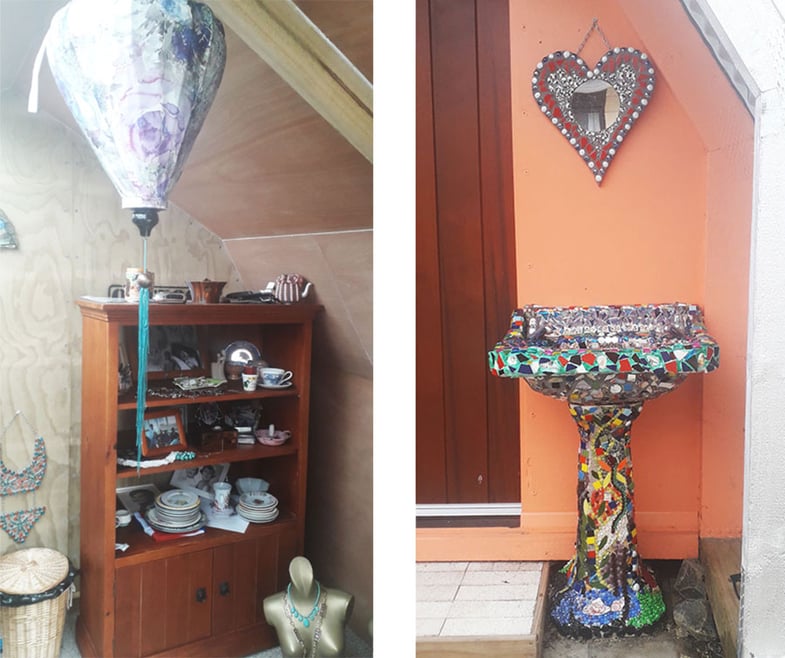 What's included in an Upland Shed kitset?
The Upland Shed comes complete with everything you need to build your shed; pre-cut timber framing, corrugated steel cladding with one strip of clear cladding for interior lighting, ply board exterior end wall siding, timber pre-assembled barn style doors and all fixings & fittings you will need (screws & hinges etc).
Optional extras available are: plywood floor upgrade, Colorsteel upgrade.
If you want to use the Upland shed kitset to build your new hobby shed, craft room, she shed or man cave then you might need to make some alterations during construction such as adding a window and changing the doors.
Below are some images of the Upland Kitset Shed that Colin used to build his wife's Hobby Shed.

With a little imagination, the opportunities are near endless! You can start with a base shed design and make it your own, in your own time and on your own budget. Of course, one benefit of choosing Outpost kitset large sheds is the fact that they are relocatable! So, if you move and want to take it with you, you can. You haven't invested thousands into a dream Hobby Shed that you will have to leave behind. Find out more about how Outpost Sheds are relocatable click here.
Upland Studio - Fully lined with double glazed joinery option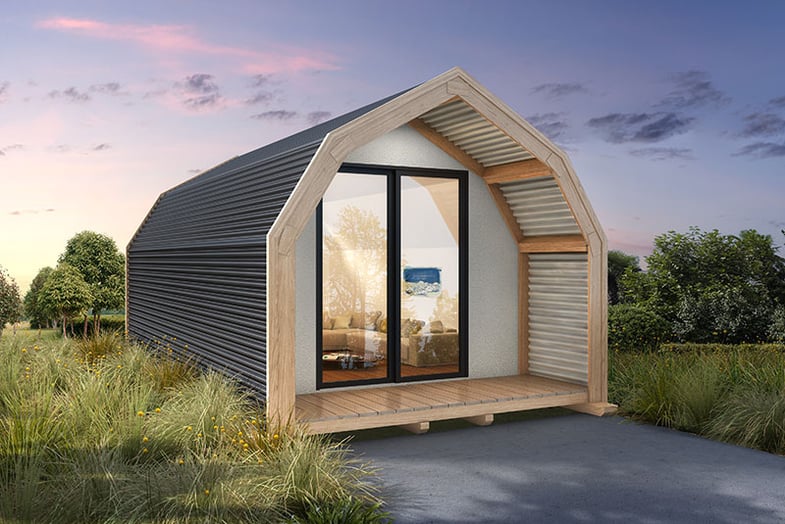 Another option for your Hobby Shed is our Upland Studio. The kitset studio comes complete with everything you need to build your new hobby room; timber framing, corrugated steel cladding, ply board & batten exterior end wall siding, interior flooring, timber decking, interior ply wall lining, aluminium ranchslider door, back window and all hardware & fixings you'll need for assembly.